Shazam Encore
by
Shazam Entertainment Ltd.
(836 user ratings)
$2.99
Download size: 103.82MB
Version: 11.7.1
Released: 2009-11-09
For ages: 12+
Shazam Encore - the best of Shazam without the ads!

Shazam is one of the world's most popular apps, used by more than 100 million people each month to identify music, get song lyrics, and now to discover the music that artists discover themselves.

"Shazam is an app that feels like magic" --Techradar.com

Identify music instantly and share in the thrill of music discovery with the artists you love.

See what top artists like Drake, Bruno Mars, Justin Bieber, The Weeknd, Ed Sheeran, DJ Khaled and others are Shazaming.

• New discoveries from artists you've Shazamed appear automatically
• Follow new artists with a tap of a button and see what those artists are Shazaming
• Stay up-to-date about new singles, albums, and videos from the artists you follow

KEY FEATURES
• Enjoy music lyrics and YouTube videos
• Preview songs and add them to Apple Music or Spotify playlists *
• Launch Pandora radio based on artists you discover *
• With Auto Shazam we'll keep finding tunes for you even when you leave the app

DISCOVER & BUY
• Stay in the loop with Shazam's real time charts
• Quick links to Apple Music and the iTunes store
• Connect Apple Music or Spotify to play full tracks in Shazam
• Check out recommended tracks to discover new music
• Find out what's popular in your town, your country and the world

CONNECT & SHARE
• See what your friends are Shazaming when you connect your Facebook account
• Share your discoveries through Facebook, Twitter, WhatsApp and more...

SHAZAM FROM YOUR WATCH
• Launch Shazam on your Apple Watch to name that song in seconds, right from your wrist!
• See your past Shazams with a simple swipe up
• Use Handoff on Apple Watch and iPhone to buy the song on iTunes, watch videos, and much more

MORE THAN MEETS THE EYE
• Shazam visual recognition gets you more - tap the camera icon on iPhone to Shazam posters, magazines or books; anywhere where you see the Shazam camera logo
• Visual recognition also works as a QR code reader
• Buy tickets to see your favorite artists in concert
Use Shazam as much as you like – it's unlimited

OTHER INFO
• Previewing and buying music requires the iTunes music store in your country
• Continued use of GPS running in the background can dramatically decrease battery life
• Facebook uses interest based advertising. More details: https://m.facebook.com/ads/ad_choices
• Some features are location, device and app version dependent
• For more information on Shazam's privacy practices, please read the Privacy Policy, available at
http://www.shazam.com/terms#privacy_policy.

Any questions or feedback? Check out: https://support.shazam.com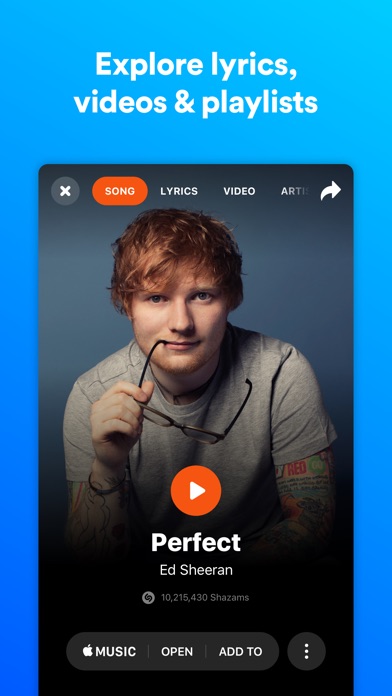 Powered by Facebook Comments
Customer Reviews
What happened
by xtreme777
This app used to be great. Now it only recognizes music playing on radio that is not too low or too high volume with a crisp sound. Forget about playing songs on tv or on other playing devices.
Best App
by Hink A
I love Shazam! There's so much music that I hear but don't recognize and Shazam always knows!
Had to knock one star
by Jung Money
Had to take off a star. I had the free version, but it became unavailable and I was forced to pay for the upgraded version if I wanted to continue to use the app. Later, they made the app free again. I will give them back the star if I get my money back plus interest.
"Shazam", in my opinion the Greatest App Ever!!!!
by TxDeputy
Excellent App, I highly recommend, it's the most fastest and easiest way to allow the App to listen to just a very small piece of just about Any song ever made and it will identify it very very quickly, then give you the lyrics, link to the original related Videos and has quick link buttons you can push that will send you right to iTunes to purchase, etc! Lastly it keeps the entire list of every recording you have listened to, so you can look at the later, especially when you activate the constant mode, which when you turn on, it will continue to identify every song you listen to for your trips, even across country, there is no limit and it runs even when the phone is off and on idle mode, which stops the App from using your charge up!! ( just push the large button in the center of the screen and hold it for just a few seconds, and it's up and running, easy peasy!!! This App can determine the song is being sung by even in a crowded noisy area, or in a grocery store, at a restaurant or hanging your phone out the window at a stop light to find out what song the car next to you is blaring on the radio! LoL. There are a few "fine tunes" that could be done to this App, which would make it even more brilliant and would make this App one of the greatest ever made, hands down, slam dunk!!!
Great App
by Ibapimpdaddy
Finds 99% of everything I look for! Very happy with the results.
It's really 4.5 stars at least
by Cred@nce
Shazam can't find exactly *everything* I search for on the radio. Also, I wish Siri would automatically launch the Shazam app after I tell her to "Shazam" without the extra step after she identifies the song.
Total Rip-Off
by Hawkshaw14
One star is generous. Maybe Apple is screwing current subscribers independent of their buyout of Shazam? It used to work on my watch, now not really. Keep you money in your pocket.
Crashes
by sbtokarz
Fast & accurate results.. as long as the app doesn't crash first
Spotify
by S_son
No spotify integration.
❤️❤️❤️
by SavageGrl10
Best Ever
It's ok.
by Samuel Scarnici
I liked it better when it just did what I needed it to do-id songs.
Great when it works
by GayleHS
Have always loved Shazam, it's one of the coolest things to come along in a long while....but sometimes I try to Shazam a song mostly on a tv show & try & try but nothing comes up I know that's not Shazams fault but it's still annoying. But it's still a great invention.
Soundhound is so much better
by pookerella
I do not understand why they wanted to destroy this app. It's slow, it's database blows and 60% of the time it doesn't find what you're looking for. Music isn't only about what's going on today, people. And even then, it doesn't have the newest releases unless it's major releases! All the alt and obscure stuff isn't there, even in today's music. And then Soundhound will find it. Maybe if Shazam didn't spend all those years on TELEVISION NONSENSE, they would have a better app. But they did. And it's not great. Used to be great. Not any more. #sad
Been a fan since this came out....
by Shaung411
Been using and loving this app since it came out.
Shazam
by L10bisha
Luv it!!
Not Impressed
by Michael R Kennedy
Just another way for Apple to make money while you entertain the thought of you needing the app itself.
Old friend.
by Johnny Zorro
This app has been around for so long, I often feel affection for it as might feel an old friend. I love when it fails (which is not often), and always get a chuckle.
Needs a tweak
by xjuan23x
Every time I exit the app by either pressing the home button or any other method I get red bars on the top of the screen.... is there a fix for this can it be fixed other than that I love this app and how quick it works
Love This App Thanks !
by Cawisme
Shazam Is Now the Best App for Tagging Music in a Matter of a Seconds👍💯
My music
by Kitatrc
Extremely difficult to try and get your just purchased songs to your list
Price
by aw1956
Why does a $2.99 app turn into a $5.98 app when it comes thru Apple Pay?
Highly recommended
by Isave1@atime
Now with all of the upgrades they've made & improved on since I first starting using it, I love it!!! Highly recommend it ! Dawn D Virginia Beach, VA
Awesome
by Teddydagon
Right every time!!!!
P. K
by Patrick Kanu
Very useful. One of its kind. I love it.
Perfect
by MSPaulovich
Been using it for awhile and id feel naked without it!
Great resource....
by nehawka
Use it frequently
Worth it
by GT51389
Love it
Luvmynest
by Luvmynest
I'm so frustrated!!! I purchased the app AND paid for no advertisements yet all I get is "Sorry I didn't quite get that". Not shazamming anything!!!
Finally nailed it Shazam
by NYT Phil
Between the listen at launch setting and the new content- and user-centric redesign, Shazam is finally realizing its potential - lovely work team Shazam ♥️
Shazam it!!!
by Grose'
Love it!!!
Recommendation
by AlbertMarx
Shazam only works when the songs are being played aloud. But sometimes we may not want to play the music out loud and then to Shazam the song as you may be in a public area like on a train or in a library. So my question is simple; can music recognition still work when earphones/headphones are plugged into the jack of your phone/laptop and still successfully identify the artist and song title without the need to play the song out loud?, and if this is not possible can it be implemented in the future? Serious question. Thank you
Fair
by m&ktunes
It only identifies 1/2 the songs
Genial
by Totoytita
Es realmente útil, me encanta
Love!
by CandyBrooks
Perfect!
Love this!!
by iam1wG
My first favorite app!!!
Rip off
by Tylersgigi
I have paid for this app only to get 15 seconds of the music? This app is just one of many that take your money and deliver nothing. Shame on you. BTW, the only reason you got one star is because there isn't zero star rating.
Where is Spotify streaming???
by src1983
Why can't I stream to Spotify, I'm not a Apple Music user
New update takes functionality away.
by KitShicker43
I left a similar review for the free version, but two things specifically irk me with this update. The extra pages feel like just that: extra, like the clean and concise setup wasn't "poppy" enough and just as last.fm did a few years ago, now Shazam has a bloated feel with extra screens just to have them, it seems. And the lyrics - the realtime tracking and highlighting is neat, for sure, but forcing the view back to what's actively being played is irritating! It isn't a karaoke machine, but if you want to give users the ability to easily turn that on or off, for example, that'd be great and it COULD be a nice feature for those times we need to "belt it out" - but most of the time I just want to read along and I WANT TO COPY TEXT to be able to paste it elsewhere. No longer can I do that and now I have to leave Shazam to search for the lyrics online and I NO LONGER want to use Shazam to get lyrics at all! Extra steps and swipes and someTHING recently (prior to this update) that whenever launching Shazam introduces a second-long break in my tunes from any source in any other app and again when switching back to my music source from Shazam... that's been terrible and now that the user interface has been bloated as it has... IDK team, I don't see this app in the same light anymore.
Doesn't recognize music anymore
by Morty Seinfeld
I used to love this app. It could pick up anything anywhere. Now, not so much. Not sure why.
Great
by Captain Big fingers
Great app for finding information about music
Download unwanted songs
by soarer25
When I try and sample a song through this app into iTunes it seems to download unwanted songs without my permission. Normally I'm supposed to enter my password or face recognition but it doesn't ask.
Memory
by eal54
As you get older memory is the first to go. This app help me remember the folks that make the tunes I love.
Follows artists I don't like.
by CapriciousWhim
If you Shazam a song sometimes you just want to know what it is. Doesn't mean you like it, want to add it to a stream, or want to follow the artist. Very disappointed there appears to be no options to turn off auto add and auto follow.
App freezes continuously
by 🐼ㄗ丹れ刀丹
Even after the new update the app stiill freezes. App tags music in south farce iTunes store, i don't know wether that is because im in south africa but I have a US iTunes account.
Shazam is your Playlist's BFF!!!
by Froggy0375
Thanks to Shazam, my music library has grown considerably. And I love the feature to have the songs automatically added to Apple Music!!!!
Love it!
by Rittgarnk
I have never had a problem with this app. I love that is saves my music so I can buy it later.
Works like a charm every time
by MarkNance
Connects to Spotify or Apple Music easily. Also allows you to listen to tracks in Deezer. Find tracks I want to know about and ads them to my Spotify playlist with ease. Works great. I consider it a really good app should you choose to get it. Blessings!
Reminisce
by MÅŚTĘRQICKK
Helpful and convenient! Especially when you don't know the name of the artist
Awesome
by Bmw Guy 1
Great App can't go Wrong
Apple Music
by DeathGun25
No me aparece el enlace con Apple Music una vez reconoce la canción. En mi iPad funciona lo más bien y aparece como está en la fotos review pero en mi iPhone 7 Plus no aparece.