Word Streak With Friends - Premium
by
Zynga
(65 user ratings)
$5.99
Download size: 136.26MB
Version: 6.37
Released: 2012-01-05
For ages: 4+
Are you a word genius and love a challenge? Then join the millions who are now playing Word Streak With Friends, the addictive fast, fun game of finding words!

Score the most points by making as many words as possible in any direction before the time runs out.

With 4 modes of exciting game play you can play who you want, when you want and how you want

● Head-to-Head: Challenge a friend or worthy opponent to a heads up battle of the best vocabulary
● Daily Challenge - Streaks: Complete the challenge to win rewards. There's a new twist every day!
● Tournaments: Join a live Tournament to prove yourself and compete against seven others for the top spot to win prizes
● Solo Play: Train with The Coach online or offline to sharpen your skills

REVIEWS:

"Short but sweet, [this] is a game designed exclusively for the socially-enabled wordplay fan. That said, Zynga …has delivered an addictive puzzler for those willing to engage with friends and randoms alike"
-- PocketGamer UK

"One of the best time wasters you'll ever play"
-- Slide to Play

----------------------------------------------------------------------------------------------------------------
ADDITIONAL DISCLOSURES:
● Use of this application is governed by the Zynga Terms of Service. These Terms are available through the License Agreement field below, and at http://m.zynga.com/legal/terms-of-service.
● For specific information about how Zynga collects and uses personal or other data, please read our privacy policy at http://m.zynga.com/privacy/policy. Zynga's Privacy Policy is also available through the Privacy Policy field below.
● This game does permit a user to connect to social networks, such as Facebook, and as such players may come into contact with other people when playing this game.
● Terms of Service for Social Networks you connect to in this game may also apply to you.
● You will be given the opportunity to participate in special offers, events, and programs from Zynga Inc. and its partners.
● Must be 13+ to play.
● Use of this application requires a Facebook or Games With Friends account.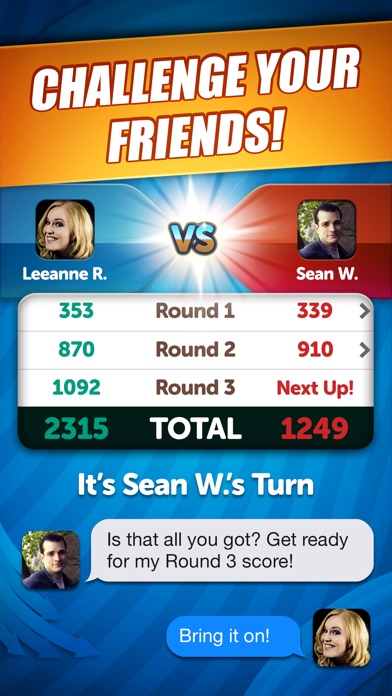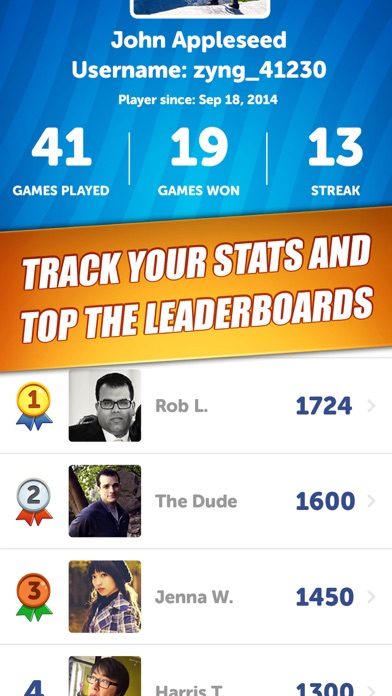 Powered by Facebook Comments
Customer Reviews
Top 3
by Nonommittal
Easily in the Top 3 best App Store games!
KC
by KMC22
App is down for maintenance way too often, and find "lost" games more often than I should
Love this game!
by Jojojlgame
This is my all time favorite go to game‼️ Many of the bugs have been worked out for which I am thankful. I've been playing for a very long time. It is quick and easy to learn. But many times I go to play and it blinks off and I lose my points! I hate when that happens.
Fix the Free Spinner already please!
by sarahbellum74
Love this game and have played for many years. However, ever since the new "Boggle" that they keep promoting for us to change to, my "free spin" says "Oops. Theres an issue with the daily spinner." I've gotten that message for weeks now. Why?
Love the game but glitchy
by Pammie Jo
The game needs a fix release. It is glitchy and slow. I don't think it's my phone because other games played on my phone are fine. Otherwise, this is a great game.
Addictive fun words game - unfair
by Hairytoes
Is said life isn't fair. Neither is this, when opponents may secretly be using extra time, hints, or other power-ups. I like the tournaments and P v P action. Is like Ruzzle but with more bells and whistles. Ruzzle team play has me there more lately. Inequity of hidden Power Up (PU) use is a problem. Never know if play is remotely even, or if PU is key. Please add some way to show opposite player what power-ups opponents used. At least after round ends, but would be interesting to see chosen PUs before round starts, even more if we can adjust our own to counter. Or allow games where all players get same PUs, downgrading to lowest set in common to all players of the round. Make the field fairer. Please please turn off annoying tap tap method of word building. I never use it on purpose, and it often slows me down when I trigger it by accident. Please remove it or add option to turn it off. I've been playing over 2 years, a little almost every day. For most of that time I was able to win tournaments Classic and Blitz at least 50% of time, but for last few months I almost never win. The huge range of scores makes one suspect cheating by some.
Good but....
by Laura_Lo
The game is fun and challenging. The only thing I don't like about it is that.... you don't know how the other person won the game. How many extra 4-5 extra power ups did they use? Did they only use 3 like me or did that add 1-2 more that they purchased . That's what I don't like. I like a challenge but not a "cheating" challenge . The users should be limited to as many power ups as the other used .
Fun way to connect with family and friends
by Grammyr6
It's fun being able to play against friends, but it's frustrating to have the sound go out on the game. It isn't my device! The other games I play has sound. It doesn't happen all the time, but more often than Id like!
Addicted to this game
by Mblant00
I really enjoy this game. The one thing I wish they would fix is the challenge rounds as I don't like that people can use the cheats on them. I keep several games going & have never needed to buy additional coins.
Buggy
by Anniebye
I just upgraded to the version. But it seems to be buggy. Got an error repeatedly today trying to enter a tournament. Love the game though. Please fix the bugs.
Love the game but ...
by Tobelex
I love the game, but for the past couple of weeks, after every round I play, a pop-up asks me to rate the game in the App Store, whether I select Ask Me Later or No Thanks. So it loses stars for pressuring me for a rating.
CrazyGma28
by Gniwes28
I purchased this game to be rid of all the ads. I lost the pass and play feature of the old words game and I would like to be able to do that as well. Please help
Fun!
by Raefamiy
Very entertaining.
HATE this new version!!!
by Micheleinnj
Updating this review (Sept 2017). ARE YOU LISTENING??? This is a truly fun game, WHEN IT WORKS. Which it mostly doesn't. No other game I play has as many problems as this one. PLEASE, PLEASE, fix it. Please, please, please, revert this abomination back to its old self. The problems, bugs, design flaws, are too numerous to list. This is not progress. It is not an upgrade. It is not an improvement. It is a big fat FAIL. Will be ditching this game shortly unless it's fixed. Bummer. Used to enjoy this game so much. Not anymore. Doesn't even deserve one star.
Best game. Period
by Dcblogs
I love this game. Endlessly challenging. Forces you to think very quickly.
Great game except...
by penuska
Love game. However, it takes too long for tokens to refill which is very frustrating. Also, the Daily Spinner is a great concept, but it would be a lot more helpful to win coins instead of 5 tickets, etc.
Creepy random game invites & more glitches
by Dave SD
Umm shouldn't we have an option to not get creepy randoms or some other friends (Fb or other) inviting us to games. Creepy n stalkerish. Why not add a "no randoms" button. We aren't all game whores n sluts. Also stop with the constant Black Friday tacky annoying splash screens every time we open the app. No we don't to buy more coins. So F off ! And why does your version history say nothing meaning meaningful but instead invite us to review u n vent our anger that way. Pathetic Another recent glitch is it eats your tickets even if you don't start a game. It used to at least TextEdit automatically if you backed out or didnt start a game For the past year the finished games don't property manually delete either. The sound mutes when we get a notifitcation.. Swipe too fast (and odd thr screen somehow?) and you'll magically also start a new game, not be able to resume either of the two you r in m alao then lose all the coins you'd juat spent on both games So many bugs. Lol all zYnga games this has gone downhill Now we seem to waist 20-30 seconds for it to create a new game. Seriously? What r these developers doing ??
Very entertaining but.....
by ciscovarmint1
I really enjoy playing this game, but there are a few things I would change. First, when there is a daily challenge that is a riddle or a question, it would be nice to have the answer posted the next day. Also, maybe proof read and make sure you are giving the correct clues (i.e., cheese is a six letter word, but the clue said "noun, 5 letters, a food made from the pressed curds of milk"). Otherwise, this game is lots of fun and I really like playing it!!
Love the challenge!
by Akkat83
Fast paced, critical thinking, also has solo playing games!
Great game
by LoneRangerbychoice
With a few glitches
Super Fun Game!
by CindiLouWho52
I truly enjoy playing this game. I play it every morning while I have my cup of coffee! I love the different ways that you can play: against your friends, in tournaments against strangers and weekly to win prizes like coins and power-ups. I also feel like it gives my mind a workout! It's a very fun game.
Addicted
by Wendy310
Have played hours upon hours (days upon days) of this game with my fiancé. Only phone / online game we play against each other.
Crashes a lot
by Paint910
Fun game, but mine often crashes, especially when playing tournaments. No compensation when it happens, either. It takes "tickets" to play a tournament, and you're just out of luck after a crash.
Stop asking me to rate this game every week
by Apache64driver
Stop asking me to rate this game every week.
Addicted to this game
by Always Lost 69
Love this app!!
Fun!
by Dbd11
Good game, fast paced, easy to play, but sometimes hard to win.
Great game, not so great app
by sweetleigh
Love the game, but the app needs work. There seems to be a problem with something all the time. The app crashes in the middle of tournaments, or I'll win the round but the player with fewer points will move on, and don't even get me started on that daily spinner. I have the paid version, and wish the app worked the way it's supposed to.
Ugh
by Cup4drw
The "match of the day" stinks. I don't want to see some stranger in my play list. Give an opt out please!
A great game
by ElPayson
I've enjoyed this game for a very long time. Reading other reviews, I'm wondering if complaints such as the one I saw concerning slowness and one that mentioned bugs, might be due to the device being used? Maybe? I play on an iPad and have only ever noticed one bug. It recurs from time to time but is completely unproblematic. This is a solid, very fun game.
Coach play is fast
by Cjfroggy
I like the addition of the Coach. His results are instantaneous so you can play a few quick, complete games without having to wait for someone else to take their turn. Fun game. The coach's scoring is broken for the match. His score doesn't include the points from the third game.
Great game
by Roy, Anthony
A great game, but I wish they would show what (or at least how many) power ups your opponent used
Fun
by Batweety
Fun to play. I just wish the game would also track the average word score with statistics
Great
by supereego
Love it. However, There are inconsistencies. Letters don't always appear as pressed. Sometimes a pressed letter does not appear at all.
*
by Buggy54
Very slow, very buggy. Too bad because it would be a good game.
A Great Game to pass by Time
by Crunch13astrd
I have been playing this game for some time now and must say that it is fun and addictive. I would definitely recommend the download if this is your type of game.
Game removed all of my tickets
by AlyMD
Love the game, but refuse to pay for tickets or boosters or any other in game purchases. Had accumulated over 300 tickets and they were wiped out one morning.
Love!
by MBWendy
I love this game!!
Where's the sound?
by Tweetsa50
It's a fun game, but the sound is gone. The sound helps me keep track of the time.
Fun to play
by Siamese7
I like this game almost as much as WWF. it's fun to play with people that have about the same speed that I have. I would like to see stats like in Free Cell.
Fun, fun, fun!
by NikiLujan
Love it!
Love this game!
by Sharaler1
Excellent game. I often start with random pairings, many of which have proven to be consistently competitive games. Would like to play more tournaments, but spinning 2 or 5 tokens within the 24 hour window limits that. Can't beat the excitement of winning a tourney, though.
Scramble
by CynG108
I really like the game. It's addictive. I find myself playing 15 or more games per day. You have to think really to play this effective. It's very challenging too.
Glitches
by CBee6
This game is my favorite and I've been playing it for several years now. It helps me relieve stress. Lately, it has started to be glitchy again. Many of the problems of the past are creeping back. It sticks, or pauses.
Review
by Playergrandmom1
Fun game, but often aggravating because the game stalls and you lose your tokens. Often this happens when you are winning a tournament. Complaining gets you nowhere.
Dodie
by Dodie A
Addictive and great fun!
Tournament freezes. Otherwise fun.
by Bui4
Love the game, but has so many problems that I may quit playing. Too often the game does not appear and you need to close and open again loosing seconds. Please, fix. Can be much fun. Worst crashes in the tournament. Too many issues to mention. Two years later and glitches continue Game freezes when I'm winning. Wasted many tickets that way
Great word game!
by The 4th N
This is my favorite game. Love it! But please fix this bug: in the quarterfinals round, the average player scores show "0" instead of an actual number. This makes it hard to decide how many tickets to use in the first round.
Start to everyday includes 4 games
by Emleegregory
Always. Getting better
Tyler
by Tylerdurden012
Love the game. But stats of players no longer show up in the beginning of competition, which takes out the fun of guessing which power ups to use.
Umm ...
by pitmlp
ya know what would be cool? If the app worked - end of round 1 and nobody's scores update so can't move to round 2 - tried it 3x including the "fix the bugs" update - geez guys how does it work and then not work? Still a mess this much later. My 2nd favorite app and the developers remain asleep at the wheel. Still many problems with stats and other malfunctions. And now they change the whole format of seeing opponent scores each round in the tournaments - can't see overall stats for opponent (or self!) - see only each round stats. What a bad call. Who needs to see 1st round zeros - that tells u nothing about who u r playing. Just one more app where developers try to outsmart what already worked and screw up the app a bit more. Help desk is phenomenally responsive but always in the dark - they returned canned replies without fully understanding what is being said and often they just don't even know what the developers have done - clearly they aren't heavy users of the app and clearly they just don't get it. Could be one of the best games out there and instead it is really just a disaster. Past comments stand as well as the powerups leave u waiting for 3-4 minutes for other jackasses to finish their games - I understand the need to sell but they should learn from competitors - other ways to bring in money - in today's world of short attention spans do you honestly think you can keep your app sticky like this? I could turn this game in to a homerun with one week on the job. Developers should be fired for someone that cares and gets it.