Hurricane Pro
by
Kitty Code
(24 user ratings)
$3.99
Download size: 26.43MB
Version: 5.5
Released: 2008-09-24
For ages: 17+
Hurricane Pro: The best Hurricane tracker app for the iPhone and iPod Touch!

As the first hurricane tracker to be released back in 2008, Hurricane Pro has been keeping people like you safe for over 9 years. Continuously updated with interactive features and detail; no other hurricane tracking app comes close to the information provided inside Hurricane Pro!

Reviewed by CNN as having the best features of the Hurricane Tracker apps available for iPhone GOOGLE: "cnn top hurricane app" to read the article!

• Featured by: CNN Tech • TUAW • MacWorld • The Huffington Post • ZDNet • The New York Times •

• TWC's Stephanie Abrams: "The only app I use for 'canes...y'all have a great one...so user friendly and lots of great satellites/discussions/history/etc!!! Thanks for making it!:) -SA"

• Chief Meteorologist Brad Panovich from WCNC: "I don't always recommend apps, but when I do, I recommend @HurricaneHD for tropical tracking..."

• Depended on and recommended by emergency managers and first responders

• Featured in iTunes Rewind two years running

• Video Updates • Extremely detailed video updates provided by an exclusive partnership with the experts at HurricaneTrack.com. HurricaneTrack.com gets in front of the storm and broadcasts back video and information from the front lines. They also provide our weekly video outlook.

• Twitter Feed • All the latest news and updates through Twitter integration.

Full detail tracking map, not just a web page like other apps. Includes forecast cone, wind radius and extremely FAST PUSH notifications to keep you informed.

Hurricane has all the detailed information you need. The clear leader in Hurricane Tracking on iOS devices and the one and only app you need to stay up to date.

• Over 50 animated SATELLITE images and NOAA RADAR
• Bulletins constantly updated from the National Hurricane Center
• Detailed interactive tracking map
• Detailed tropical wave/invest information
• Video updates both before, during and after the storm
• Push Notifications
• Share information with friends/family via email, SMS, Facebook & Twitter
• Historic storm data - Atlantic back to 1851 » East & Central Pacific back to 1949
• Model runs including:
• Wind Shear
• Vorticity - 4 models
• Environmental Steering - 6 models
• Convergence
• Divergence
• Link to the FSU model runs.
• Preparedness Tips, Storm FAQs and MUCH More!

Informacion en Español para el Atlantico Norte, el Mar Caribe y el Golfo de Mexico...
- - - - - - - - - - - - - - - - - - - - - - - - - - - - - - - - - - - - - - - - - - - - - -
• La perspectiva de actividad ciclonica, advertencias, y una explicacion del pronostico praparada para usted, cortesia de la oficina meteorologica de San Juan Puerto Rico.

This application is great for:
- - - - - - - - - - - - - - -
• anyone interested in severe weather or meteorology and studying tropical system history
• learning more about historical hurricanes like Camille, Hugo, Andrew, Katrina and Sandy, just to name a few.

Love Hurricane Pro™? Get Hurricane HD™ for your iPad today!

IMPORTANT:
- - - - - - -
ⓘ All official hurricane data originates from the NHC. Hurricane reports the data as it becomes available, however is not guaranteed. ALWAYS execute personal responsibility - watch local media outlets when threatened by a storm!

ⓘ Internet Connection required to receive new plots and view new satellite pages and text bulletins.

ⓘ We cannot guarantee that our product is the right one for you, as no single application is perfect for everyone. Our goal however, is to create the best, most informative hurricane tracking application possible.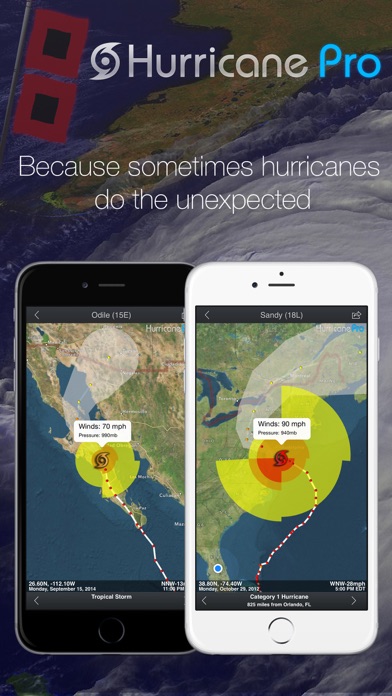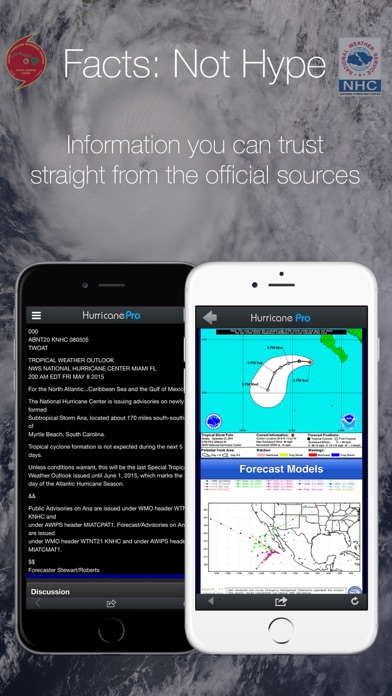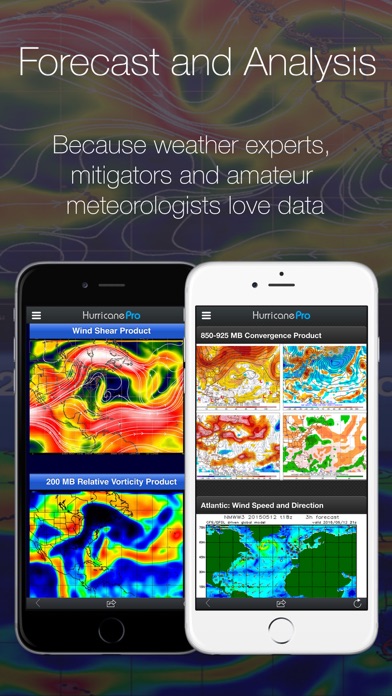 Powered by Facebook Comments
Customer Reviews
Not updating in a timely manner.
by Distant Prommer
The info is often many hours late.
Hurricane Pro
by Litediver
Just started using Hurricane Pro this year. So far the best app for hurricanes I've found over the last few years. Living in South Florida this is now my go to app.
Hurricane Pro
by SeabeeRick
Good app to track storms. Only wish you could expand all the screens with graphics overlaying the maps in storm graphics section.
Doesn't refresh
by DebbieMH
You have about a two to three hour delay in updated info. Disappointed
5 Stars from Florida!
by OldStPete
Knowledge and insight on hurricanes and tropical storms is of paramount importance to me because I live in Florida and must keep track of these things. Of the several programs out there for keeping track of whether Hurricane Pro is the easiest to read, and yet offers all the technical complexity you could want.
Essential Hurricane App
by Worried lizard
I agree with the other reviews...if you live in the "zone" this is a must have! As Irma approached I was checking this app every few minutes! Thanks for keeping watch for us! Great job!!!
Awesome app
by Lovelycaramel
Great app! This kept my family and myself safe!
The best to keep you updated
by AlmostSnow
Use it all the time Love this app. Has everything to keep you updated and then some. Just perfect thank you very much.
Awesome app
by Sizzle fizzle bizzle
Definitely the best hurricane app I've ever used' 6stars
Keep up to date
by Iowa native
This is the best app for following hurricanes and tropical storms. Worth every penny.
Very important app
by BigEasy593
This is one of my most important apps that I depend upon during hurricane sea for reliable and accurate information 👍🏻
Great app
by byte.tracker
Hurricane Pro is a great app. Weather is a hobby for me. The app helps me monitor weather that can impact my plans as well as my friends.
Extremely accurate
by Baby mikes mom
I rely on this app to track all sever storms in my NY area. I find out of all the news and weather apps this proves to be the most accurate and pinpoints the exact path of the storms.
Very informative
by Sir Maxx
Wise purchase for anyone near the coast
Great App and reliable information
by PattyCat77
I was very happy with this app to track hurricanes. I was there all the time during Irma. I appreciate all the information that is provided . Including forecast models. The updates were a bit delayed like 5-10 min. For Hurricane José the model European Global Model ECMF was not found, since this model was the most reliable during Irma . It should be great to have . Other than that , Great job!
I like it.
by AwsomnessDefined
I've tried several other paid and free versions but come back to this one. I spend a lot of time on this app because of our beach houses. I can stay up to date and informed which is critical to me. As a basic app it's very good.
Hurricane pro
by Walt Travis
Great to use. More up to date on somethings sooner than wunderground.
Could update more frequently
by Thundertusk96
Could update more requently
Almost perfect
by Gredo61
Needs an opacity setting for map overlays in settings. Could use pin map settings for manually setting various locations
Slow to update
by DanRaetsel
Irma track still showing west coast/Tampa track one hour after turn to the north. Total waste of $3.99.
Hurricane pro app
by Hurricane Donna 1960
It's great content updates and twitter feeds. Keeps u in the know
The best!!!
by Rompecuello
Love this app!! I live in the caribbean Puerto Rico!!! And this app is whats i need!!!
Wow
by Jayman232323
This is by far the best hurricane app out there. Well worth the money! Great work on this app guys! 👍🏻👍🏻
Getting me through Hurricane Irma
by 2Katzinspace
A great app and well worth the cost! The information available and the ease of finding it is awesome. I'm in Florida and currently riding out Hurricane Irma. This app has been essential.
Best Hurricane Tracker
by ccp55
Excellent information and tools without all the hype of TV to help you make good decisions and stay safe. Thanks!! iPad app is even better!!
Horrible use of push notifications
by airbornemint
I like this app overall, but it uses push notifications to inform me of its features that I may not be aware of. Having my phone show me an hurricane alert that tells me how to use the app is spectacularly poor.
IT HELPS
by GregSpeck
HELPS WHEN YOU ARE 5000 MILES AWAY AND WONDERING AOBUT YOUR HOME. No emotional bs, just facts.
Nice app to keep up to date on hurricanes
by ihuggermugger
Great app got it to keep up with situations.
Thanks Hurricane Pro!
by Sleahy5
I've been using this app for a few years and I love it. It's much more user friendly than navigating NHC. Loads fast. Great visuals. Lots a different views and easy to switch between them. Seems accurate compared with other sources. Thanks Hurricane Pro for helping us Floridians prepare for these events!!
Great app
by Songsport
Best hurricane app, no doubt.
Great product but not tablet friendly...
by Shefdogydog
I like the product. It is accurate, user friendly and free. ;) however they need to develop a tablet version.
Amazing
by robgf
Great app
Best hurricane tracking app.
by Fasteddie1953
I have been tracking hurricanes for 30 years. I been through dozens of websites including the NHS sight. This app is the best app I have seen. Great!
Great app
by alucard0013
I love this app. Easy to use and I love the past storm option. I think they could be a little faster in reporting and alerting though.
Good App, But ...
by jaypoo
I like this app but the view of the track is obscured by the wind speed label. I really would like to see where the track is going
Great app
by FullThrottle_SCR
Recommended by a friend, great graphical information presented in an easy to read format. Highly recommend!
It's in the name really,
by VIFury
Have this for a long time and its great, my number one reference to ALL the information regarding Hurricanes all season & worldwide. Of all other weather sources this app was the easiest and most accurate in tracking Hurricane Irma while it devastated my home in the U.S. Virgin Islands.
Great app, I'm glued to it during Irma
by CTAPOCTA
Much more comprehensive and less confusing than the NHC/NWS sites. Everything gathered in one place and you can toggle between different views and different storms (freaky to be watching two cat 4s at once). Sometimes a little slow to update after the NHC updates (I.e. 8 pm update may not show up until 8:15). But I can live with that.
Simple and fully informative
by Icerine
We are cord cutters and this app gives us all info we need.
First Place I Go
by Mscampers
This app is where I track Irma for updates and changes in forecast. Very good.
Great app
by Kurtk46
This review will be short but sweet. This app is very helpful in following the storm. $4 is a cheap price for the effort someone put into this.
AWESOME
by BT in South Florida
Best $4 Bucks I ever spent! Tons of information and follows the NHA better than local News
Great App
by GemGW
Using more then 3 years. Following every major hurricane from this app.
Excellent app
by Gisele 1957
This is a wonderful app. If you live in a hurricane prone area you really need this.
Best Hurricane App
by Marschall47
Gives me everything I need to know about approaching storms. I recommend this app to all Florida and other hurricane prone residents.
Best
by Showdawg
This has all the features I was looking for, plus it very easy to navigate. Nice to be able to pull up old storms and see there track too. Can't recommend this enough.
Great App!
by xamaika
I live in Florida and deal with hurricane season every year. It's a great app!
Excellent App
by Stormchaser814
The best app to see and watch tropical and Hurricane tracking. Has the names and previous information as well. Thanks for this application
Best app for your Hurricane prep
by Alpandia
I have used this app for years. It's worth every penny. Between updates, maps, and alerts, it is my go-to app for info.
Great app!
by Me2011a76
It gives me all of the information that I need about storms coming my way!