Boating Calcs
by
Double Dog Studios
(5 user ratings)
$1.99
Download size: 16.32MB
Version: 4.1.0
Released: 2010-12-20
For ages: 4+
You asked for more calculators and we've added them. Boating Calcs has over 120 boating calculations and unit conversions and 120 reference pages. With Boating Calcs you can quickly and easily solve a variety of boating calculations from your iPhone or iPad.

Not just calculators, but the ability save and open saved calculations and add calculators to a favorites list. You can also email calculator inputs and results so you can easily share your calculations. Search functionality enables you to quickly find the calculator you want.

Chapters:
* Area, Angles & Volume
* Communications References
* Unit Conversions
* Finance Calculations
* Fuel Calculations
* Glossary / Acronyms
* Line Calculations and References
* Knot References
* Mechanical & Electrical Calculations
* Performance Calculations
* Piloting Calculations
* Propeller Reference and Calculations
* Weather & Waves Reference and Calculations

If there's a calculator or reference material you'd like to see added, visit our website and send us an email.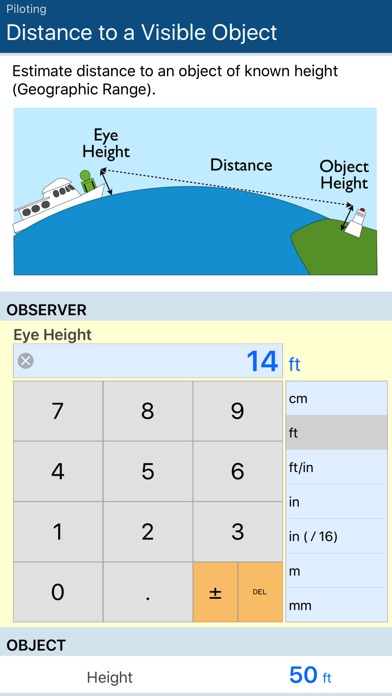 Powered by Facebook Comments
Customer Reviews
A great reference and calculator.
by Spencer 54
Just got it. Love it already. Love the leeway calculator.
Very Handy
by ML7220
Many more tools than advertised!
Why more info then I thought.
by Wllarsen
Had it just for a short while now, no crashes. Opens every time and has way, way more info then I ever thought it would have.
OK
by AlasCat
One significant issue with propeller sizing: it fails to take gear ratio into account so the result is that the recommended propeller size is much larger than necessary.
Great app!
by smresq
This was a great app before the newest version, but it is now outstanding! This is the first review I have written for any app, and I have several hundred, many of which I've deleted after not finding them useful or them being the best of a category. This newest version of the app just does so much, and the UI is beautiful and elegant.
Captain
by Hookedatit
Very good basic tool for general sailing. Unfortunately it does not have yet a True Wind Calc which would be very useful for sailing in any environment. Have to say the Air Pilot Calc has it.
Awesome application
by Apemon
This has everything that a boater will ever need. Excellent app and well worth the money.
C . N . S .
by Sparky 1965
Awesome ! Please do one for windows phone !
The ultimate little boating app!
by Arifeapa
A remarkably useful app! Very informative and practical! Love the interface and page layouts. Keep up the good work!
Everything it claims to be
by ShaunCotton
This app is all it claims to be and more! Exceptionally great quick reference program. Why try to remember formulas and have notes jotted all over when this app remembers everything you'll need for you? For only $2 I can't imagine any boater not wanting this great reference on hand!
Skipper
by Evetsnod
Perfect (nearly)
Genial!!!
by peki1971
Tremenda aplicación !!!!!
Very good
by Higgenson
Like.
No bad
by AGMMan
Not bad app for boating. It would be nice to be able to change some of the consumption rates in the fuel flow calcs. I was looking for a vmg calc. It does not have one. A vmg calc would be a nice addition.