SpeakToSnooze Pro HD
by
j labs
(1 user ratings)
$4.99
Download size: 78.34MB
Version: 15.0
Released: 2013-02-15
For ages: 9+
OVER 1M DOWNLOADS!!!
Say "Snooze alarm" to snooze your alarm!
Say "Alarm off" to turn off your alarm!
Better than a cup of coffee and cheaper too!

AWARDS
• Top 100 Paid Utilities

PRO FEATURES
• No ads!
• Set multi-day alarms
• Fun voices like Stewie and Honey Badger that motivate you to wake up if you keep snoozing!

FEATURES
• Control your alarm clock without EVER having to touch your phone or open your eyes!
• Say "Set alarm for 7:30 AM" to set an alarm
• Say "What time is it" to hear the time
• Say "Flashlight" to turn on the flashlight. No fumbling for the light at night!
• Set a "I have to get up by" time, at which point a diabolically annoying sound will play and you won't be able to snooze anymore
• Beautiful, customizable alarm clock design

TESTIMONIALS
• "Best alarm clock app on iTunes" brftb
• "I hated the ads on the free version and I waited forever for this to come out!" SkippyCakes
• "I am a VERY deep sleeper and I didn't wake up to a fire alarm, but I wake up to this when volume overdrive is on!" Sis


WE WANT TO HEAR FROM YOU!
• Visit us at www.speaktosnooze.com
• Email us at support@jlabs.me
• Tweet us at @jlabsTeam
• Like us on Facebook!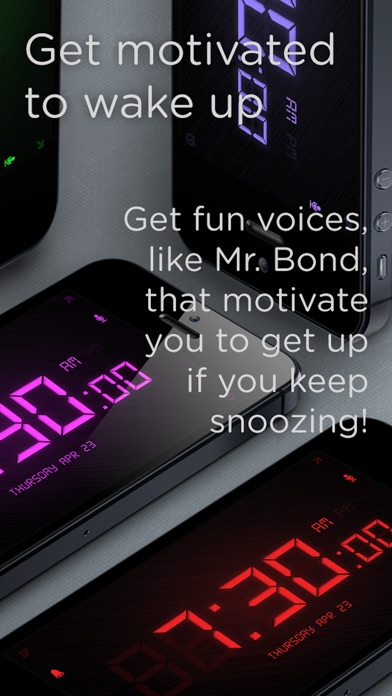 Powered by Facebook Comments
Customer Reviews
App is lit
by GFD79-775
Best app ever! Love it's features like talk and it tells you the time.
Good App
by Johnzonobian
It works great. I use it on business trips because I don't like wake-up call and can't be bothered figuring out a hotel alarm clock.
Love the app
by Beautyblast99
Great app
Nice app
by Braygoza
Good clock
AVOID!!!
by sharaccuda
This app does not perform properly...some in-app purchases do not download. App has not been updated in over a year, and Jason has apparently taken his website down ( link provided does not work ). The in-app purchases are too expensive, and can not be restored to your next device. Jason...time to come home, and " clean your room "!!!
Great app, wonderful alarm
by deemerwm
Definitely worth the purchase
Loving the app
by Plschultz
So far I'm loving this app just wish that if you forget to leave it on it would sound as well when it is time to go off. Also wish you could say snooze or shut off at anytime and not just when the sound pauses.
Good app
by Mini_Minionz
It wake me up when I want and to what I want. I recommend this app
Works well
by Kel Bel's
Like the large display and unique voice however I am unable to speak back to it effectively.
To many IAP w/no restore
by jweaver1982
I love this app. It's the only alarm clock I use. Only downside is there are way to many IAP especially considering I paid full price for this app. I shouldn't have to upgrade again and again once I upgraded to pro version. Not to mention if you get another device there is no way to restore all those IAP you have already made. It's still pro when you restore but forget about all the IAP you made prior; i.e. speak to set alarm, different voices. You have to start all over again either purchasing expresso with real money or saving up that 1 yes 1 expresso a day you get every 24 hours for turning off the alarm. At least give us more like maybe 5 or 10 expresso. Fix this and it would totally be a 5 star app.
Awesome
by Jusme Chang
Love this app
Alarm
by JohnMc1977
A great clock to wake up to.
Ring ring
by Hsyjsyehgdjdurjhrjdh
It's my favorite alarm app
Best Alarm Ever!!
by Gammagoat
Great app
Great App
by Eliza Doolittle2000
I love this app! It's fun!
I've tried then all
by AJEP
I've tried every alarm app in the store and this one is the tops. Love the voice feature and love being able to set the alarm just by speaking the time I want to wake up. Also being able to just say "snooze alarm" and sleep another 10 minutes is awesome. No more turning over and trying to find the snooze button.
Wakes the Bears from hibernating!
by Traertoo
It works!!!!
Voices are annoying
by Unbelievable crappy app
This would be a great app if you could turn off the nag voices. After a few mornings of hearing theme, I went to ihandy clock. It also nags you with these stupid in app purchase nag screen. The snooze buttons are also way to small. The one thing this app does great is control screen brightness, it doesn't fake out dimming, it actually controls the phone brightness.
Great app. Love how you can dim the clock with the swipe of a finger.
by jbnz71
Great app. Need to shorten voice commands.
Mr. D
by defeojack1
It's Awesome for a Great Cup Of Coffee.
Pretty stellar app
by Joker tat2
Easy to use no hassles like some other alarms I've tried like iPhone's alarms quits working even with all the updates.
Use it!
by SMB1207
This makes it fun to wake up to. You gotta get the day started why not make you smile as your alarm goes off.
Pretty Good App
by RealMikeBowers
Pretty Good App
Great app
by zekryaa
I've used many. This one is light years ahead. Highly recommend it!
Awesome App
by wkm210
Awesome app no complaints! I must have!
The best
by Me me love this eow
Very easy to use best one I've used
Helpful
by XxjulietxX
This app has been a real help so far since Apple products have been going through some kind of bug where all of my alarms cut off. and the fact that I don't have to turn over and turn off my alarm I can just say alarm off is very helpful when I want 10 more minutes of sleep
Works great on IPhone....
by APPlicable226
Not as well on iPad.
CK
by Pampering Cook
This is a great app & helps me to get on time . I love the voice command feature 👍🏾
Only alarm clock I use.
by John Lindinger
I love this app.
Speak to snooze
by NanceMom
I think this is a very good app. I do wish it had more voices.
Love it!!
by BrwnEyedGrl869
I rarely take advantage of the voice commands, but the few times I do, no problems with it. My only suggestion is I would love to be able to have the app randomly pick a song from my playlist rather than me picking one. Other than that, love the app!!
Could be better
by SoundsPrincess
**update still needs louder alarm option and more voices Needs to have louder and more alarm choices. I often don't hear it. The voice recognition needs work. I have to yell at it sometimes cause it doesn't seem to hear me say turn off alarm or snooze.
Great app!
by Addicted 2 rwf
I have a hard time getting up in the morning and have found this works better than anything I have tried!
Still Works great
by Dfscjjglodczs
Still works great even with the new updates.
I hate that every day I get asked to review so you get one star
by Why0808
If I want to review I will ask one time then Stop just I bought your app you made your money don't be sad I do this for all pushy apps
Alarm
by Marcdaddy
I love this alarm it is the best phone alarm out there
If you have a hard time waking up this is for you
by CFH 1
I am not a morning person, so i always have time waking up in the morning regardless of what time i go to bed. If you are in the same boat this alarm is for you, it has not let me down a single time! You will be amazed of how annoying this alarm is to the point you will be out of bed just to shut it up. Ps. It works better if you left it out of your own reach.
Best alarm clock
by rromeo
This alarm clock is the best I have used.
Works!
by PUNI2H3R
Works good not great but it gets the job done!
Great
by Jimmy232423
Love it
Not bad
by jeanettec626
Speak to snooze isn't too bad, except that sometimes it doesn't understand my commands. I wind up waking up because I have to repeat myself and sometimes yell. But, still not too bad.
Yoyo
by BubbaJ83
Great app. Powerful alarm almost always wakes me. Obviously I have to be supremely tired for that to not be the case.
I'm truly L-A-Z-Y!!!!
by Dusti2012
I HATE mornings on any day. I'm an insomniac and get my best sleep between 5AM and 2PM which is not acceptable with a NORMAL lifestyle. Therefore, I need Xtra help getting up! This helps me (as best possible) to get started!
Cool
by McMoomoocow
This is a really good app
Rating
by Viperist300
Very good app, works to my needs
AWSOME
by Bookem684
Great app
Good not great
by TexasTinsley
I am still looking for the perfect alarm clock app. SpkToSnooze is on the right track. I love the color options, and I love the swipe to dim--finally a clock I can dim enough that it doesn't keep me awake. The problem is with the alarm sounds. Whether it is one of the included sounds or an iTunes track, the sounds cuts in and out. I have yet to hear an alarm sound without this annoying problem. In addition, speaking when the wake sound or track is finished is not good enough. I want to be able to say "Snooze" at any point and have my snooze function enabled. Please make these improvements happen and I give you 5 stars.
It wakes me up!!
by Bnsnagbhgaa
I like how easy it is to use. Some of the voices make me laugh I just wish there were more. It wakes me up because it's a bit interactive but not too much to get me in a bad mood. I really like it
Expensive junk
by SteveJ0bs
In-app purchases are required to get basic features that should be included. Such as setting iPod music to wake. This costs extra and can only play one song! Most good modern alarms will shuffle a playlist. Voice wake up cost extra too as well. No way to restore purchases either so be careful when considering deletion. I feel ripped off.