Smart Alarm Clock : sleep cycle & snoring recorder
by
Plus Sports
(24 user ratings)
FREE
Download size: 75.86MB
Version: 8.5.1
Released: 2013-05-18
For ages: 4+
Your sleep patterns studied inside out. Your night talk demystified. Your snoring detected and recorded. And your mornings always feel right.
You deserve this experience!

WHAT YOU ARE GETTING

*Lull-you-to-sleep music (Premium, some tunes are available for free)
So that you quickly and peacefully fall asleep. Relaxing melodies, instrumental tunes, guided meditations, sedative lullabies and more.

*Night noise recording feature (Premium)
So that you know exactly whether you snore or not, how bad your snoring really is and how you sound when you are talking in your sleep.

*Sleep cycle monitoring (Premium)
Illustrates your sleep cycle phases to help you finally see how long deep sleep and light sleep last in your case. No wearables required, just put it on your mattress and enjoy the comprehensive graphs the next morning.

*Apple Health integration (Free)
Smart Alarm sends your sleep duration and sleep phases data to Apple Health. Enable data export to Apple Health and have all your sleep statistics in one place.

LISTEN TO WHAT OUR USERS ARE SAYING

"I didn't know what to think about this app when I got it. But I set it the first night and woke up feeling great! It listens to my sleep, and somehow knows whether I'm in deep sleep and not."

"Has allowed me to see how well I'm sleeping and review my snoring patterns to understand better what triggers those."

HOW TO USE SMART ALARM

Open the app, decide on the time your tomorrow morning will begin.

Tap the music icon, browse through a selection of alarm tones, or add your own favorite song.

Now move on to the chill-out section.

Here you'll find tranquilizing tunes that will help you go to sleep. Choose the tune for tonight

Now put your phone on your mattress, lay back, let the chill-out music or guided meditations take your mind off whatever is weighing on it and slowly drift to sleep. Good night!

While you are sleeping, the smart algorithm of Smart Alarm Clock starts to track your sleep cycles. The alarm will only go off in the lightest sleep phase in your selected time range (can be modified in Settings) when your body is naturally ready to wake up.

START THE DAY OFF ON A HAPPY NOTE!

Play the night noises. Listen to the interesting things you said while asleep, send the funniest ones to your friends. Pay attention, night noise recording feature and chill-out music can't be used simultaneously. See what works best for you.

Download it now for free. You'll be asked whether you want to start a free trial — go for it, taste every feature!

Don't be afraid, If you don't think Smart Alarm is quite for you, cancel your subscription before the free trial ends (just set yourself a reminder). It's simple. Go to Settings on your iPhone — tap iTunes & App Store – tap Apple ID at the top – View Apple ID – enter your Apple ID password (of fingerprint) – tap Subscriptions – select Smart Alarm – Cancel subscription – Confirm when prompted.

If you love your free trial, do nothing, the auto-renewable subscription will start automatically when the free trial ends. You can stop the automatic renewal of subscription anytime.

Nights with Smart Alarm will totally change your mornings. For the better.

Download it for free now to get the mornings you really deserve.

The optional Premium subscription costs $4.99 per month.

There is a free trial period during which you may try out the Premium version of Smart Alarm Clock without being charged.The monthly subscription cost will be charged from your iTunes account after the end of the 7-day trial period. You can manage or cancel your auto-renewable subscription under user settings in iTunes after the purchase. The subscription will be auto-renewed 24 hours before the subscription period ends with the same kind of subscription you already bought and at the same price. It's not possible to abort the subscription during the time it's active. Please, see the Terms of Use here: https://sport.com/terms_of_use/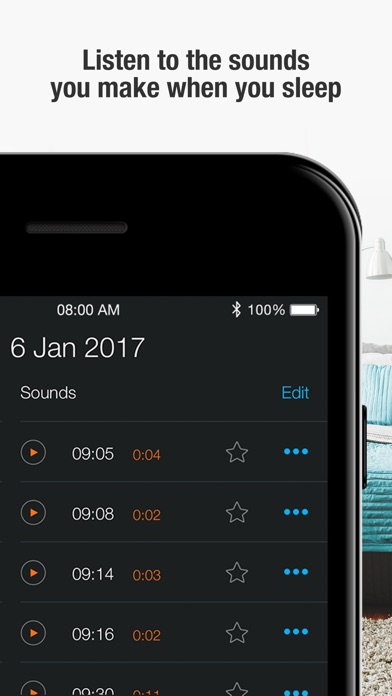 Powered by Facebook Comments
Customer Reviews
Lovely app... update
by sarasarasarAAA
New: It seems that it has been integrated with the Health app now and there are more sounds to choose from than I remember, from classical music to binaural beats. Unfortunately it looks like there is a premium upgrade option now though but it's still pretty good. Old: It works well although I've only used it once so far, and without the recording feature. Suggested features: add it to the Health app so that it can sync with it, and so that it can print out your recordings or you being able to share them. Also more default music and just an alarm option with nothing extra (not sure if it's already a feature or not) would be nice. However, I do like this app more than I thought and it has some pretty good sounds and features already.
Subscription now? Not worth it!
by J David Baker
I bought this app a few years ago, and have liked it a lot. But lately it's been getting more and more buggy, and I have to keep reinstalling it. Now I apparently no longer have access to my purchased version and they are requiring a very expensive subscription to continue to use it. No thanks.
First morning waking up refreshed
by Hejdkikaksnnsondkb
There's no other method for me now!!! I woke up feeling PERFECT. It's not so much how much sleep you get, as much as it is what sleep cycle you awoke during.
Broken since iOS 11
by mostro3
Ever since iOS 11 came out it hasn't worked properly. Doesn't wake me up at the right time and doesn't monitor sleep cycles anymore. So it's been over a month now. When is the app going to get updated??
Work iOS 11 this needs work
by Lacydoggiedoodles
I love this app but with iOS 11 I'm not happy. I need darkness to sleep and can't leave my phone on in order to see my stats. Before I didn't need to. Hope to see an update soon where this is fixed.
Auto Charges You Forever With No Recourse
by Autocharged Helplessly
This application will automatically charge you for renewals forever (as far as I can tell) and you will not be able to stop it. Use at your own risk.
Not bad
by Langtown Road
I like that you can add your own music
Smart alarm
by Julia Berg pong
This is the first fancy alarm app I'm using and I like it.
Love this app
by Alice Holder
I'm trying to switch to a new routine and go to bed earlier and this alarm helps me fall asleep quicker. Thank you!
Excellent
by mutarofi
It provides you with a lot of info about your sleep. Sleep graphics, the recordings of snoring. Thanks to this app I'm now taking my sleep more seriously
Does what it promises
by Berniece2012
Downloaded to check whether it really records snoring. And it does!!
Relaxation sounds
by Teresa Edwards
I use Smart Alarm for chillout music. The nature sounds and meditations help me deal with my anxiety and fall asleep quicker.
Fun app
by Winona Jay876
Started my trial and I like it. It's funny to hear myself talking in my sleep. A lot of melodies and you can add your own music
Not free
by Daniel Brubaker
It is not free, but I'll give it a try.
Smart Alarm
by Johnson baba
I like it so far, nice interface.
5stars
by Charles xyz
Good alarm clock! I like to see how my sleep patterns change over time. One suggestion for developers: make it compatible with mi band
Excellent App
by DaFranc
Has allowed me to see how well I'm sleeping and review my snoring patterns to understand better what triggers those. I've been using it a long time and still love the app.
Stuck in the wrong time zone
by Leo74
The app generally works very well, but somehow it got stuck in the wrong time zone and now it'll send alerts for me to go to bed every day around 3:30pm. The problem is, there is no time zone setting that I can find in the app, so the only remedy is to disable alerts.
I love it
by Lulu Bloodrose
Great statistics and wonderful sounds. I've had it for years.
Bait and switch
by No wrong mom
This isn't free. You should just advertise that it comes with a price. I was very disappointed once I downloaded the app just to see that before I could use it I had to subscribe to a monthly fee. Classic bait and switch.
Not free
by punkin_king
You have to start a subscription in order to see your stats, might be nice to see but you lost me in the '7 day "free" trial. Deleting with great haste!
Subscription only :/
by Magatha3000
Would have liked to try this without starting a subscription...too likely I'll forget to cancel it if I don't like the app. Wish they did a truly free 7-day trial instead of being tricksy.
Monthly fee is stupid
by Annnnnngela
Why pay for something your phone can now do anyway. And when I downloaded this app ages ago I paid for the app because all the features were included at the time. What a terrible downgrade.
Wake up rested
by Early commute
The Smart Alarm makes sure that you are not jolted out of a deep sleep. This makes all the difference. You will now wake up naturally and feel rested. I also love the stats. I now can tract if I am receiving the essential deep sleep when the body does repair. If not I know that I need more rest.
Cool app
by NickyTheWrench
I really like this app. It's awesome to hear what's going on while I'm sleeping. The sleep quality number is cool also.
I'm disappointed and mad
by Alina Deluca
Please don't make us pay to be able to use it for over a month
Great app
by Grapey27
It does everything it's supposed to do
Learning a lot!
by Cat mom57
My psychiatrist is helping me smooth out my bipolar sleep cycles. He is *very* interested in using this app, and I'll continue to pass on reports from this app to him. Nice work!
Love it!!!
by Silverwolf_74
I discovered that I have sleep apnea and now that I have a CPAP I am getting the best sleep ever!!! Thank you so much for this app. Total life saver!
Really good app
by Quinnles
I use it every night and I have an easier time getting to sleep and waking up.
Great App!
by Newer Player
This app is excellent! I love going to sleep to the sound of a thunderstorm. Something about the sounds in it help minimize my tinnitus and helps me go off to sleep easier. Knowing how long and how well I slept the next morning, is useful information. Being able to play back night sounds helps me monitor my sleep apnea and how my sleep machine is helping me get better rest. I like this app a lot!
Perfect Update!
by MiHitunes
I wanted two changes on this app. First was to have a longer play time of sound while I process thoughts and fall asleep. And the availability to play the music or meditation while in alarm mode. Both happened and the format is seamless.
Works surprisingly well
by Gorillabeach
I didn't know what to think about this app whenever I got it. But I set it the first night and woke up feeling great! It listens to my sleep, and somehow knows whenever I'm in deep sleep and not. It even lets you listen to your own music. That is, the music you have bought, not your Apple Music.
Worked great until I upgraded my phone
by StacieND
I had an iPhone 5s and recently upgraded to an iPhone 7 plus. The app worked perfectly until I put it on my new phone. It records everything double speed. I now snore like Minnie Mouse. I've deleted and reinstalled. I made sure I was running the latest version. Several emails to app support and they're still "working on it" two months later. No thanks. I bought a different app.
Nice app
by Huge49erfan
Z
My fav app to sleep!!
by Cheekz804
I love this, recommend it to all my friends!
Love this app
by dr1v33
No gimmicks or complicated subscriptions. Just a clean and premium smart alarm. Works well.
Love it
by Sacra jay
Love this app, it helps me make sleep a priority. I just wish there was a way to shut off the snooze function and customize the chill out track time
Wakes me up 30 min before alarm no matter what
by lhs2011
You have the accelerometer set to be way to sensitive. I've been in deep sleep and been woken up by you guessed it, exactly 30 min before the time set. Please have a setting for sensitivity, might as well use a normal alarm clock over this.
One long recording is annoying
by DrawmeYup
When I first downloaded this app it broke up the night noises into many different audios. Now it's just one long recording which is very annoying. You cannot pause this recording, you cannot fast forward or rewind. It's aggravating to set and listen to one long recording without the option of skipping through. I don't know what happened to this app, but it needs to be fixed to where it will not pick up as much of the white noise. Make it to where you can adjust the level of mic level and where you can fast forward, rewind and pause. Then I will fix my rating.
2 thumbs up
by 8FMZ8
App is great w recording sound when you're sleeping. So if you snore & unaware you'll find out. The stats too re: deep sleep & light sleep are invaluable.
New alarm
by Wooooooooww
Love it! Genius app. Now I just need something to go me to sleep sooner.
Almost - but generally a great app
by Route246r
Harder sleeping surfaces (e.g. Futon) makes it hard for iPhone to pick up "stirring" in the night.
Best App of its kind
by Dhyfnhxv
I've used Smart Alarm for well over 4 years now and it has been absolute perfection.
This app is great, like a sleeping coach.
by Bien A.
For everything this app can do, from easing you to sleep with a huge "chill-out" sound library, to tracking your noise and movement to give you an accurate awake, light sleep and deep sleep ratio, to its namesake which gently wakes you into consciousness. This app is THE sleeping/alarm app that is really helping me monitor my sleeping patterns and helping me wake up feeling more refreshed than any other alarm ever has. There's even different alarm modes including a power nap alarm to track your midday naps to help give you a boost!!! I highly recommend just trying it out for a week or so especially if you're someone who finds that they're having trouble sleeping or are waking tired or feeling tired in the middle of the day, or just really appreciate sleep!! At the very least it will give you helpful insight on your sleeping patterns and habits.
Love it
by Mayhecana
It's exactly what I want. If it could only record when I made noise that would be awesome but my dog is loud. Still a 4 star app.
I think I love it...
by Akrempl
I have used this app for three days… The first day he gave me two cycles a deep sleep, but the other two days, I had zero deep sleep. Even days that I had light sleep, sometimes he gave me over the 85% needed for "good" sleep, so I think I may be a miss using the statistics feature. Or not putting the phone in a good location. What I KNOW I love is that it wakes you up at the proper time of your sleep cycle… I have awakened very easily and refreshed the last three days… And I do love the huge variety of alarms and music to fall asleep by.
THE BEST SLEEP APP
by Michael Wynn Billionaire
STAY ON A SCHEDULE look in the morning on ur graph to c how u slept.U may need a nap or more or less sleep keep a diary how u feel each day.This has changed my life !!!!!
Perfect for the deep sleeper
by FeeFeeFeeFee23
I have a terrible time waking myself up because I live in a household of light sleepers. I use to use a bell alarm, but I can no longer do so. Now I use this app in combination with an app on my smartwatch, and I'm able to wake up on my own early in the morning without waking others in the house. I use the birds sound turned down low and vibration of my watch to wake up. Truly unexpected solution, but it works great.
Great concept, however.
by Gadget Meistress
For those of us using VoiceOver, which is the onboard screenreader for iOS, this app is at this time unusable by the blind. While most of the elements can be read with Voiceover, it is impossible for us to be able to set the alarm, which is an important part of making this app work, affectively. Perhaps in a future release you may want to consider making the hour and minute set-up into picker items that are easily operated with the single finger swipe up or down for VoiceOver users. I highly encourage any and all app developers when developing apps to perhaps take a little time in getting educated on the accessibility options under settings, and learn about such things as Zoom for magnification, VoiceOver for speech and braille output, and assistive touch for those who may be motor impaired. Yes, even blind people have sleep issues, some of which is due to light deprivation. So, with that in mind, this app could be a help. However, with accessibility issues as they are, we are being left out. Hoping this problem will get better, since this is a possibly great concept in helping us maintain a decent sleep cycle with a refreshing wake up. There are other access issues with VoiceOver as well, such as one or two impropperly labeled buttons. One of which I managed to surmise, added time to the soothing sounds for nodding off. Another one was a button that said "down-arrow." Not sure what that was for. But, since I was unable to affectively set up the alarm and so forth with speech, it's hard to tell if this can be useful. Hope this gets better.