Sleep Time : Sleep Cycle Smart Alarm Clock Tracker, Insights Analysis, Better Soundscape
by
Azumio Inc.
(419 user ratings)
FREE
Download size: 138.17MB
Version: 5.28
Released: 2012-09-11
For ages: 4+
Fall asleep, stay asleep, and wake up refreshed!

Sleep Time doubles as a comprehensive sleep analysis app and alarm clock. Celebrating the release of version 2.21, Sleep Time is the first sleep app with iOS 8 support and Apple Health integration!

With over 35 million users, the award-winning Sleep Time app is all over the web.

------------------

"Azumio has fulfilled the need for an accurate, state-of-the-art algorithm for sleep analysis that is consumer-accessible as an integral part of a complete mobile health solution" - Dr. Paul Zei, Stanford University

5/5 "I've tried several apps that log the amount of sleep and the types you experience, and the interface of Sleep Time is the best by far. It's easy to understand and simple to use."

5/5 "Fascinating results. It works remarkably well providing helpful information."

Featured on: TechCrunch, Mashable, Lifehacker, 148apps, eHealth, and many others...

#1 Sleep Analysis app in United States
#1 Sleep Analysis app in Japan
#1 Sleep Analysis app in United Kingdom
#1 Sleep Analysis app in Australia
#1 Sleep Analysis app in Germany
#1 Sleep Analysis app in France
#1 Sleep Analysis app in China
#1 Sleep Analysis app in Russia
#1 Sleep Analysis app in Canada
… and many more.

-----------------

MAIN FEATURES

√ Set the alarm clock with a single gesture

√ Fall asleep to soundscapes or white noise!

√ Alarm rings even in silent mode

√ Choose from any of our 20 built in alarms

√ OR wake up to your favorite song from iTunes!

√ Sleep Lab™ with sleep cycle analysis

√ Detailed monthly and weekly graphs

√ Advanced wake-up optimization algorithm

√ Instant Heart Rate integration to detect pulse after waking up

√ Full history and graphs make comparison easy

√ Backup and restore your sleep data on the cloud

√ No glasses needed for our easy to read interface!

√ Apple Health Integration

We make Sleep Time for our users and we'd love to hear your feedback – tell us what you think so we can implement your ideas and suggestions in the next update!

Upgrade to Premium to receive unlimited access to Premium Programs and Playpen Freeplay workouts, HD videos, dynamic and motivational audio, workout email summaries with tips and advice on healthy living, priority support, and more for $8.99/month or $39.99/year through renewable iTunes subscription.

Sweet Dreams,
Azumio Team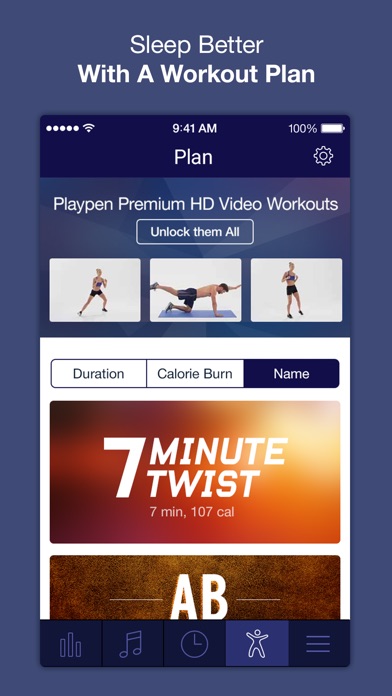 Powered by Facebook Comments
Customer Reviews
Help
by MCGKD
App Support: the heart rate tool after the alarm has stopped working it will flash the light twice and then not work.
Needs updating for the new iOS
by sleepytracking
Updating to iOS 11 changed the behavior of this app in negative ways. The app needs to be updated to get back to where it used to be.
Does not work as advertised
by lovingorca
Stop bothering me to Rate your app. This app does not work as you claim. and therefore is not worth one red cent. It's bad enough I can't get my money back for this worthless app. Leave me alone! I paid $2.15 this included the tax. By the time I realized this app was worthless I couldn't get my money back. LEAVE ME ALONE!!!!!! Your diagram is a lie!
Only one problem
by Lissa_Bet
I love this app and would give it 5 stars, except for one thing. When I'm turning off the alarm and an ad pops up that is much louder than the alarm, it wakes my husband up. He has sleep issues, so it took a long time to desensitize him to my alarms in the first place. I can live with ads, but please make them silent ones.
love
by Swmn4life
ok honestly thought this was a joke when I first downloaded it but then used it every night. I haven't really used it since senior year of high school (3 years ago) but I have been feeling extremely tired recently so I decided i'd try it again. i'm so impressed, the first night after using it I felt more awake than I have in months. great app!!!!
Used to be great
by 789€&@
This app worked great on iOS 10 and earlier. Ever since upgrading to iOS 11 it crashes all the time. I was almost late to work this morning. Deleting the app and going with one that updates more often.
Volume
by Ngz992
Great app but WHY IT AUTOMATICALLY TURNS THE VOLUME UP?? Just why not turn it like till the middle? Every time i use this i get a stroke after playing a goddamn song or video😮
iOS 11 support?
by Paper.io player
App usually works very well, but my alarm hasn't gone off at all after updating to iOS 11. Please fix this.
Fail
by 41Sierra
This app failed to wake me up twice because the app crashed. Do not rely on this app as your only alarm.
Great except for loud ads when you wake up
by Evnnn
I've been using the free version for over a year. I understand the purpose of ads and had no problem with them in this app until recently. On several occasions, a video ad plays at full volume immediately after the alarm is turned off. This is a deal breaker for me and seems totally backwards for an app like this. The last thing you want at 6am is a full volume ad for a toothbrush that wakes up your partner as well.
Ads are now loud videos
by crankypuss
A great way to wake up your bed partner and give yourself a fright. Wellshire farms video convinced me to uninstall. I would pay for an ad free app. But they want you to subscribe to a plan. 9.99/mo or 29.99 year. This app is not worth that.
Great
by Sica711
Love this app. I have not over slept once since using it. I feel great when I wake up
Great App
by Trango
It's cool to see your sleep cycle in the morning!
Good app
by kwvi
I love how this app gently wakes me up. I definitely notice the difference in my day when using my regular alarm which is jarring. I feel more rested when waking up with this app.
Helpful
by Booconcerns
Helps confirm that my sleep is different at best and now I can work on changing that. Also very interesting, to say the least.
Very Aggressive Marketing Tactics
by NYCers
I'm done. Marketing tactics are very aggressive. Pop-ups, slide-ins, "limited time" offers are incessant. Very obnoxious. Very old-school ineffective marketing approach. I choose not to pander to companies that subject users to this. Bye Sleep Time.
Nice lil app
by mistydawn1503
I like this app and it tracks my sleep patterns just like I needed it to.
Awesome app
by Ami12345
Works great so far
Very good app
by chad(:
Love the heart rate sensor and helps me wake up a lot better than iPhones normal clock!!
No longer works 😡
by firejdl
Get Sleep Cycle instead! I had given an older version of this app 4 stars -- I loved it. But it has finally entirely stopped working as an alarm clock, yet they keep trying to extort MORE money out of me. No, I will not pay you more for the garbage that doesn't work. That's not how this works. That's not how any of this works!
Works 70% of nights
by Miranda's Touch
Love the app & cycle recording. However about 30% of the time I wake up and the alarm is as if I never set it. I always set a secondary alarm and have needed it several times.
Sick of Ads at full volume!!!
by Smarteney
Stop it!!! Ads with no sounds please. So frustrating.
Good app marred by intrusive ads
by Dr. oW
Worked great a year ago, but gradually started to push annoying full-page unskippable ads that were deceptively difficult to close every time you use it. Ads were notorious for hiding or disguising the close button, or making it so small you automatically click on the ad. Enjoyed using the app, but updates became a deal breaker.
Ad curation is horrible
by Kitsuneuwesarai
Ok, so, you know what's not great for a sleep app? Loud as hell ads. I get it, it's free, it's going to have ads. I'm ok with the silent ones. Why aren't all of them silent? It's really jarring and prevents me from falling asleep or spikes my heart rate before I measure it in the morning. Curate the aps better, the rest of it is decent.
Don't download newer version
by Jerry the C
Once was great, but now every time I start it, I get an infuriating GAME screen that prevents its use. I paid up and enjoyed it for two years, but now I have to warn you to stay away. Sent from my iPhone
Too many ads, but worth the effort
by Alex Gaugh
I find this one actually seems to hit better wake up times for me than a straight alarm.
So simple
by Laamchop
Love the mess out of it!
Oh the ads...
by Greg11952
Love the app - but the ads have to go. Half the time they won't close until I close and relaunch the app. Horrid!
Nite nite
by Dakine42
Love it!
Sad sad sad
by C. Darwin
I used and loved this app for over a year because it was simple to use and it woke me in the morning with bird sounds. I did not need or want all the frills like the heart monitor and the exercise stuff but they did not interfere with the alarm clock so I ignored them. Then I made the mistake or updating. Now I can't use the morning birds without paying them. I can't set the clock without watching ads. And I can't use it to track my sleep without giving them personal information that can be used to identify me in a future health database. AlI I wanted was an alarm clock, not Big Brother. Sad, sad, sad.
Great
by Ariaaaaal
I love this app. It gives you detailed instructions and is very easy to understand. Since I've been using this I've been less groggy when i wake up, hit snooze less, and became more motivated to get out of bed. I definitely recommend this.
The best sleep app ever !
by Chazmic 34
I'm so happy with my sleep time I use it every day it's the best doctor says it's amazing and it helps me keep track of my sleep patterns the way he wants it thank you sleeptime I love it '.
Too many adds...
by hugoboss04
I've had this app for over 2 years now and I used to love it prior to the last two updates. Since last two updates, the adds progression has gone from bad to worse to the point of using full screen adds that simply pop up...very annoying. I understand one or even two adds in moderate screen size, but 4-5 continuous adds?? Cmon!!
Saving my life...
by Joewittendo
I knew I didn't sleep well, but I had no idea how bad it was! This app has given me information that I can share with my doctor and finally get some help. Thank you.
Dr. J
by I-70 Tiger
Loved the app BEFORE all the ads that take forever to close as you're about to fall asleep. Common sense is lacking with this app.
Annoying adds
by jackosaur
Worst alarm
Pretty good, just a few bugs
by ShellyS210
I really like this app! It always wakes me up at the right time with an alarm that is neither frightening nor annoying. The only real problem is that occasionally it won't let me change the time when I want to wake up.
Unhappy with the loud ads at 5:30 in the morning.
by EHS81
I got this app mainly so I could wake up gently before my whole family is up for the day. Turning off the soft alarm tone to be jolted into a panic with a loud ad that will likely wake my light sleeper in the next room totally defeats the purpose. Overall I could manage the ads if not for the sudden videos.
Love this app
by salseroparasiempre
I wake up refreshed and ready to hit the gym.
Wow... Perfect... this is perfect!
by LUISITO 13
Idk what it does but I always wake up at the same hour that I want without feeling tired, it's amazing!
Continuing to downgrade due to ad nonsense
by shejumps
2017: Compelled to update bc this has gotten worse due to the bait and switch ad tactics. Good luck getting to the main screen to set this. If you are willing to launch and app, click through 2-3 screens AND then figure out how to extract yourself from the never ending ad campaign with no escape good luck. Good app function if you can get to it. Incredibly poor user interaction snd monetization. Go find something, anything else. The shenanigans are not worth it. Your standard alarm on your phone is enough to wake you up. Any other sleep app that 'measures' sleep stages has the be less of a hassle than this. Too bad they can't figure it out. 2016: The functions of this app are good but the last update has made it ridiculous to set. I was considering purchasing the premium version for the storage but not after the last update. Now they want you to log in or buy the premium version. If you can locate the button to skip this process among the clutter them you get served up a completely irrelevant ad. You then have to wait for the ad to finish (which it sometimes never does) to click out of it. If you can't click out and attempt to close the app and reopen it it usually crashes at least once before you can attempt the whole process again. I've been using the app for a year but am looking for a new one because of the nonsense. There are other sleep app options with less in your face unrelated advertising and no ridiculous logins.
Max Volume Ads Not Helping Sleep
by Paygopa
I used to really like this app - I thought it was a neat idea that it had flexible wake up times based on sleep cycles and tracking. Lately though, even if my phone is silenced I will see the volume automatically change to max, and I may (depending on the ad, if it has sound) panic as I try to silence the stupid thing....right before I try to go to sleep. Yeah, not great for sleep. I'm looking for a new app, and won't recommend this to anyone I know. The quality has decreased tremendously.
Great app but buggy.
by PandaMarines
I've used this app for 8 nights and I love it but on the fourth night it has asked me both times if I like the app (yes) and rate it, the first time I said no, the app the proceeded to prevent me from changing the alarm. Then tonight it asked me it again (yes, and yes I would rate it). I tried changing the clock after my first review and it still wouldn't let me. The only solution was to uninstall it and reinstall it which loses all the saved data. Please fix this bug and it would be 5 stars (maybe 4.5 because the ads playing insanely loud at 1am is not fun.)
Wakes me with loud video advertisements
by 5600-LM
Time to wake up...to a video advertisement blasting at a loud volume. Perfect start to a morning, waking me and my wife. I understand they make money on ads, but do they think I will have a favorable reaction to a loud ad, even after Azumio notes a feature of the app is waking up at the right time? Nope. One start
Great App
by Progressin
I think it usually can determine when I am asleep and it is great for logging what issues I had, especially before bed. I'm sure I'll up-grade to the pro version soon. The only thing is that sometimes, it thinks you're asleep when you have gotten up out of the bed. I don't know if there is a way to let the app know there was a sleep interruption.
Space hog and used to be better
by Bzgirl21
I've had this app for quite awhile. It used to be better. Now it doesn't consistently go off (an important thing for an alarm), the light never goes off on your screen when you flip it over like it used to and it is a huge space hog - over half a gig! I had to get rid of it 😔 and lastly - The number of ads and clicks you have to go through just to set the alarm has become painful.
Great app that's been overrun by ads
by Scottydon't93
This used to be a great app until it filled the screen with ads every 10 seconds that you can't click out of. I'm downloading another sleep app.
Good except for ads
by TamuBu10
I've used it for 3 nights now, free version. So far I like it, except for all of the ads. It's annoying to have to close out multiple ads before I go to bed.
Love it
by Warrenjoe
I love this app it is better that what I used before