Living Earth - Clock & Weather
by
Radiantlabs, LLC
(390 user ratings)
$2.99
Download size: 165.74MB
Version: 3.88
Released: 2010-08-17
For ages: 4+
A clock and weather app unlike any you've ever seen. Living Earth presents a stunning live 3D simulation of our planet with weather, forecasts and world clock for cities around the world. View global cloud patterns, hurricanes and tropical storms. Explore weather dynamics on our planet with real time weather maps and tropical cyclone tracking. Gaze at our planet floating amongst a universe of thousands of accurately rendered stars and gain a completely new perspective on time and weather.

"A stunning app that shows the Earth in real time, based on global weather reports. " - WIRED

"Living Earth is proof that a world clock and weather app can be beautiful." - Apple @AppStore

"Living Earth is visually impressive and just fun." - MacStories

UNIVERSAL APPLICATION
One purchase for all devices - iPhone, iPad and Apple Watch

FEATURES

● Live clouds from near real time satellite cloud data - updated every 3 hours. View global cloud patterns, hurricanes and tropical storms.
● Live weather maps of temperature, humidity, wind and forecasts.
● World clock and weather for over 3 million cities. 10 day and 2-hour forecasts powered by Weather Underground.
● Tropical cyclone notifications. Receive push notifications of new tropical cyclones and updates on current storm systems.
● Today Widget provides quick access to weather essentials, sunrise/sunset times, world clock and active tropical cyclones.
● Home Screen temperature icon. The current temperature for your location can be displayed on your Home Screen icon.
● Stars, constellations, and the Milky Way are displayed accurately in time and space.
● Alarm Clock with music playlist. Wake up to a stunning view of the planet with your favorite music.
● iCloud city syncing between all devices including Living Earth App for Mac.

APPLE WATCH

● Our real-time planet in a Glance. Live clouds, maps conditions and forecast.
● Color coded temp and forecasts of your favorite cities, giving you a quick view of the big picture.
● Dynamic Apple Watch Notifications. Tropical cyclone updates with latest satellite imagery.

Quality detailed weather information provided by Weather Underground (www.wunderground.com). Weather Underground is the world's best source of the most reliable and accurate weather data available.

EMAIL US: support@radiantlabs.io
BECOME A FAN: https://www.facebook.com/LivingEarthApp
FOLLOW US: twitter.com/livingearthapp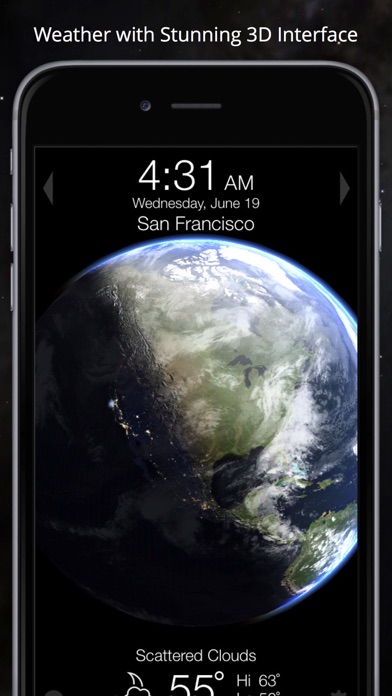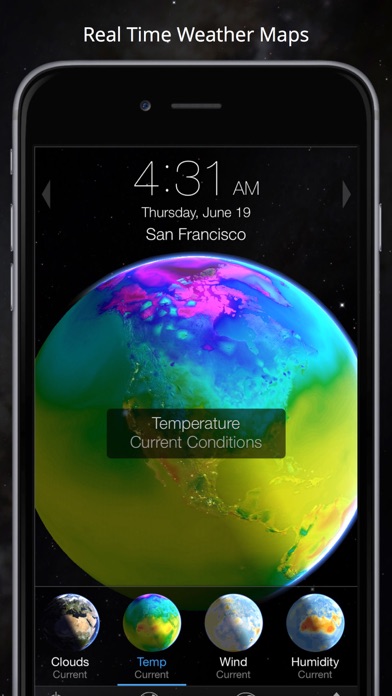 Powered by Facebook Comments
Customer Reviews
Great app.
by elevin55
The only downside is that it takes a few sec to load. I would also appreciate some flexibility with seeing a different color background on the temp page.
should see temps
by sn1022
You should be able to see temperatures, not just colors.
Living Earth 🌏 weather app
by Lynne960
I wanted this app for my Apple Watch but I cannot get it to show up on my Watch could you tell me why? As far as that goes it is absolutely beautiful I love the way it looks so live
Living Earth is Great
by 48Harley
Great program use it all the time.
Damned fine app
by 89457ypt9173
Tells the weather accurately, without all the extraneous bs many other weather apps are burdened with, and is cool to look at.
Update
by Pfly1979
Still unable to access my music for the alarm function. iPhone 7 Plus.
Bug update didn't help!
by Cordial Savage
Still no music playing in iOS 11! Fix the app that we paid for, devs! What a waste. Update: it started working again for a while, then stopped again. Unreliable!
Living Earth
by Aussie Constant Learner
Living Earth is beautiful AND useful. I go to it every day to see the forecast where I live, and to see the current weather and the forecasts where my friends and relatives live scattered across the USA and in eastern Australia. Stunning to see the display when one sets Living Earth into the "Current Temp" view, even more so when you set it to "Temp (Max) Forecast"!
Great App- update needed
by iBelieb
Excellent App. Been using it for years and has never disappointed me. Please update for use with apple smart invert.
James
by Glinda
Luv the app great for weather forecasts, it also sharpens your perspective of our Earth 🏅
Living earth
by lgdupree003
Enjoy being able to get temp and forecast for a week when I am traveling. Keep up the good work!
Bruh
by neil joker
Temperature batch does not refresh when ur traveling in a car to your location. You have to open the app for it.Is it too much to ask?
Awesome
by Andrewvz
Travel between WA State, Canada, Europe & Mexico, use it all the time very accurate for my needs, love it!
FANTASTIC!!!!!!
by MurphyMine
Terrific and very habit-forming. One Of best apps ever!!!!! Definitely best weather app anywhere.
Cool Graphics
by Golfizlife
Great app with ultra cool graphics. I use on my iPad n iPhone. I also have your other WU app...
New issues
by Lucky2629
Loved this app. Been using it for awhile and all of a sudden alarms don't go off all the time! Issue with new iOS? If not resolved imma have to go find and try another app. Help!!!!!
Used daily
by Jk3531234
I've been using this app daily for years. The Earth views are spectacular, complimenting the weather and alarm features I need.
Living Earth is a fascinating way to look at the weather
by Terry Rohren
I love how the rotating earth lets you view the day and night rotation of the earth and the weather systems around the globe. I love that I can add cities to monitor weather for places I will be traveling. Most recently I have found your weather details inaccurate. In the last two days we have had very strong winds but living earth reports them at 7 miles per hour. Most other apps are reporting 27-35 miles per hour. The other apps are far more accurate.
Favorite weather app
by COL400
I am a pilot and depend on accurate weather. This is my go to quick check app for flying before I delve into the aviation weather sites. It's always spot on. Love this app!
Need a Update TimeStamp on Imagery
by Safmoh@@@
Would be 5 Stars if they put an update Timestamps as to how old is the imagery. When compared to live maps the time difference can be significant .
Living earth
by Imgalrea
It's good I like it no complaints , by the way it needs some sound 👍🏽
Wabbit
by Wabbit's Foot
Well, since the 2nd time I gave Living Earth a 2nd glowing reviews several years ago, things have changed. I am a weather fanatic and had 3 favorite places in Antarctica including my normal 8-10 other weather favorites set. About a year ago, I was no longer able to get any weather in Antarctica. Namly, "The South Pole"; "McMurdo Station" and "Vostok Station". After a month of not being able to get the weather at those places, I sent them a message asking about it. I was told that "Weather Underground" who supplies their data, no longer was able to get weather from there. Other than that, I love this app. I just want to get weather at those places again. Comm'on guys, SOMEONE out there has to be able to get it. I'm kinda wondering if they just don't want anyone to know how bad it's getting there due to global warming. Has anyone else noticed how bad it is there? I wonder why such a HUGE population of Penguins and their chicks have died off lately. I'm talking massive amounts of Penguins. Is that why we can't get daily weather updates from there now? Still love the app, just don't like that I can't get stats from there anymore. ☹️
Love it
by Mscocolat
This is a fantastic program -simple weather forecast for home plus anywhere on the globe Graphics are stunning! My favorite iPad app so far update: after 5 years, still a favorite. Amazing earth views; both day and night.
It's easy to use and you can see the in tier world 🌎
by Cris4jc
⭐️⭐️⭐️⭐️⭐️ so you can check the weather and the temperatures in different place
Great app
by Glendiepoo
Everyday I keep up with the weather and conditions world wide with this app. It is very accurate and has many views with which to look at the physical condition of the earth's weather. Take a look at it and see that this is an app worth having!!
Living Earth
by Lightbulbwentoff
is exceptional, fun, and delivers what it promises. I have friends all over the world and it let's me know what time to call and even what weather they are experiencing! Best app ever!
Alarm no longer works
by LemonChicken
Alarm clock no longer works. Never goes off.
Terrific weather map
by HITme2
Great app for trip and activity planning and learning about global weather patterns. Gorgeous and comprehensive satellite photos, app is smart and easy to use.
Tropical storms not loading
by Idaphone
Latest update fails to load Tropical Storms. Tropical Storm notifications still work but selecting T. S. (to view on the map) results in a continuous "updating" message. IOS 11, iPhone 7/6+.
Perfect!
by Hendo2
Absolutely flawless weather app. Kudos to the developer(s).
Issues
by Ben87357!!!!!!
After I receive an update for this app, I noticed there was a problem with the hurricane tracker, I selected it keeps saying it's updating but it's not responding please fix this problem for the next update.
Most beautiful alarm
by DemBones61
This app gives the most beautiful interface of any alarm I've ever had. Awakening to your own choice of music or different alarm sounds is great. Getting a quick fix on the weather before bed and upon awakening is a great bonus. I love also having an up to date picture of the world's cloud cover and storms. Sometimes the advanced features of the alarm cease to work when there is an iOS update, but customer service actually responds when you give feedback through the app, and they have fixed bugs quickly. I only lower the rating to 4 stars because I wish there was a "sleep" feature - to allow me to fall asleep to 30-60 minutes of soothing music or nature sounds, then awaken to an alarm of choice. Maybe in a future update?
Begging
by SF Foggy
The "rate me" pop-up came up 3 times in 30 seconds. That's gets a one-star no matter the quality of the app.
Wonderful App
by leo2980
I love this app ❤️
Love this app!
by JanaLeeG
Love this app. Use it everyday. As a farmer I have to keep on top of the weather for crops and animals. This app is rarely wrong. It has saved my bacon (literally) more times than I can count!
Review
by Turk53
Temp is very inaccurate not useful
Looks so good
by Geneva S
It's my fav weather app, because it's so fun to look at. Update: still my fav, still looking beautiful 3 years later. It was great to be able to see instantly real info about approaching hurricanes, instead of the tv news hype.
Beautiful sense of our place in the cosmos
by hootview
Deepens my awe at the complexity of our Creator's work.
Love this app!
by Can't sign in .????
I just love this app. I enjoy looking at the earth and seeing all off the contents. Beautiful display. Better than a world globe. Look at the earth at any time and see the clouds. Thanks for a GREAT APP !! Addition: Wow!! Thanks so much for the thank you ! I have given a few reviews and you guys cared enough to say thanks!! And Yes! Your App Is REALLY GREAT!! Everyone should give it a try. They will love it as well !!
Living Earth
by PhillipHaupt
I really enjoy this app.
Alarm Music!!!
by iR34P3R82
I have been using this app for years now. Unfortunately it's causing music playback for alarms to not work!!! Very vital to those who depend on phones alarm to wake up!! Will have to remove for now. Bug patch didn't work obviously!
Great app!!!
by rmontalvo
Great app!!! Thanks for all of your hard work. Feature request: Please add the ability to use the image of the earth as the lock screen with live weather data.
My favorite app for world time & temp.
by JT in MN
Beautiful to look at and very useful when traveling. Time and weather around the globe.
this app is boring
by Leart Zajmi
used to be very nice back in 2012 but since then, never changed. can't use it for anything worth, just to play moving the earth around
Wonderful
by jb2736
No, make that absolutely WONDERFUL. Beautiful pictures and easy-to-access information. I've been using this for years now. It's my go-to weather app. Easy to access multiple cities as well as my local weather. Update: 10-8-2017. I continue to enjoy this really beautiful app. The developers have done a masterful job.
This ap rocks
by Bunchahogwash
My son is in the Navy stationed on Crete. I can see the weather and the time there any time. This is a GREAT ap. One thing I like about it is the temperatures are very accurate.
Living Earth Clock
by Harley W
Better now!
My go to app❣️
by Nana Nita
Love this app. We have family all over the place n I can check this app n know there weather n time of day in a fun way. I watched the hurricane Irma as it moved in actual time to see how family was doing. Love the earth movement n seeing the lights at night. ♥️🌎♥️
Stunning
by JackWDragon
A beautiful way to check the weather and time.