Pocket Yoga
by
Rainfrog, LLC
(606 user ratings)
$2.99
Download size: 125.29MB
Version: 7.0.0
Released: 2010-03-20
For ages: 4+
With Pocket Yoga you can keep up with your practice at your own pace in the comforts of your own home. Simply roll out your mat, place your device in front, and Pocket Yoga will guide you through your entire session.

Choose between 27 different sessions of varying duration and difficulty. Learn the poses with the pose dictionary containing detailed explanations of the correct posture, alignment, and benefits.

Features:
• Detailed voice and visual instruction guides you through every pose, including each inhalation and exhalation.
• Over 200 beautifully illustrated pose images showing correct posture and alignment.
• Dictionary of poses containing the descriptions and benefits of each pose.
• Unlock new environments as you progress in your yoga journey.
• Quickly preview a practice to see if it is right for you before you start.
• Maintains an ongoing log of all your yoga practices to track your progress.
• Practices designed by experienced yoga instructors.
• Play music from your music library in place of the default music. You can even play music through iTunes Radio or other apps while Pocket Yoga is running.
• Play the practices on your Apple TV through AirPlay.
• Works with the Health app. Track your workouts, heart rate, and calories burned.
• Ask Siri to start your practice directly from your Home or Lock screens.

Accolades:
‣ Listed among the "15 Best Beauty Apps" - InStyle
‣ Selected by CNN as one of the "10 great mobile health apps"
‣ Featured by Apple in "Get in Shape", "Let's Get Moving", "10 Essentials" and "New and Noteworthy"

APPLE WATCH
Pocket Yoga works great on your Apple Watch. When you are playing a practice on your iPhone you can get extra information directly on your wrist. See the current pose, time remaining, heart rate, calories burned, and much more. You can even control your practice directly from your Apple Watch.

WIDGET
The "Pose of the Day" Widget helps you learn the names of the poses by showing you a different pose each day. You can see the name of the daily pose in English, Sanskrit and even in Devanagari script. Also tap on the pose image to launch Pocket Yoga and go directly to that pose.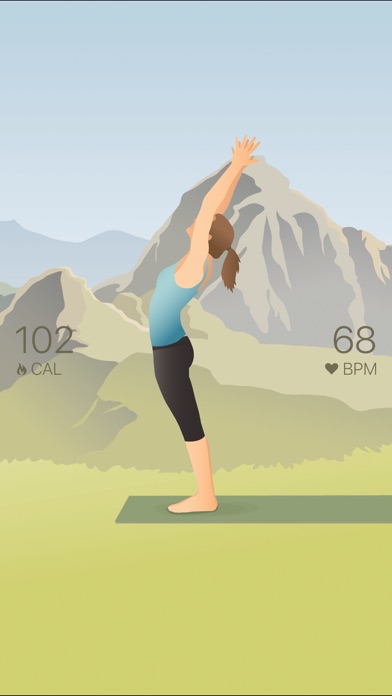 Powered by Facebook Comments
Customer Reviews
Yoga
by The kraners
So good for your body and mind. Practice when you can to relieve your stress. This app is what you want!
Great Yoga App!
by vuannielou
I downloaded this a few weeks ago to help increase my flexibility and overall physical health. I scoured the App Store looking at the different apps and this one seemed to be the best... and it has not disappointed! I'm not a yoga expert by any means, but this app has been great in challenging my body to bend in ways I had not attempted since high school (15 years ago!). The great part about it is that I can stream the sessions on my TV through my AppleTV from my iPhone and see my progress on my AppleWatch. The "teacher" doesn't include any chit-chat throughout the lesson like other yoga videos I've tried; she just says the moves as you make your way though the routine. Overall, my flexibility has increased, my stress has gone down, and I have been sleeping better. My husband thinks it is a little whacky, but intrigued nonetheless, so I'm hoping he'll join me one day - he's not going to have the same metabolism forever! Yogis of all levels, if you're debating this app, get it!
Decent app, could use and update
by 978yjhvrhwecv
This app is becoming very dated. It's a decent if repetitive lightweight yoga app. Useful for travel yoga.
DANGEROUS
by postmycommentalready
This app gives very little audio guidance, from neglecting to call out which leg or side you're moving to little tips to help you appropriately get into the positions. I've been doing yoga for over a decade, doing classes, videos and apps. It was frustrating to have to break pose to look up at the screen to see which pose was being referenced and it made me nervous that someone could seriously injure themselves if they didn't know better. The app goes way too fast through poses and doesn't take into account the minute movements that are required to accurately get into the next position. Be warned also, the class I did (desert, 60min, intermediate) was very repetitive and didn't have a good variety of poses. It felt as I was going through the program that no one actually really went through to quality check these things... now- did I get a good sweaty workout in? Yes. So that was a plus, but it was boring and difficult to follow. Was the app itself simple to use, yes. Was it cute appearance-wise? Yes. Still be very careful, and better yet save your money and get the yoga studio app. I will not be using this app again. *delete* Wish I could get my $3 back...
A step backward
by NeSes8ab
My app no longer displays the Series B Sun Salutation.
Liked it but sign in for Karma Points
by nichollspete
1st off, this app's "beginner" level felt much too hard for a total noob like me. I had my wife join me for the first lesson on this app so she was able to help me understand what was going on. Also, I had signed up on my iPhone but ended up using the app on my ipad. Then I signed in on my iPad and lost the 2 karma points I got from doing the first session. Not a huge deal but annoying. Felt punished simply for logging in. Which is a shame because I felt rewarded for getting the 2 karma points. I wish there was more instruction and guidance but over all, this seems like a good app so far.
Great watch compatibility, but no new routines
by caseybeth
I would give this 5 stars if they would add some more routines/flows. The three ones they have are great! I'm just bored with them.
Handy for this app-trained practitioner!
by rallensnider
Really great app for putting a complete set of yoga practices in your pocket (once I felt fully confident enough to really dig in & use it 😊)! I especially appreciate the first-class Apple Watch support — for tracking that nitty-gritty metadata of your vigorous vinyasa practice. If I might make one small practical suggestion: have you considered adding a sound effect at the end of a full practice sequence (e.g., bell, gong, &c.)? I probably held my adho mukha śvānāsana much longer than necessary today — which I can't actually complain about, really; but some sort of signal could be nice. 😊
Love this app!
by Basnejh
I have had this app for over a two years now and I must say this is my favorite app out there for DIY yoga. I love the karma rewards and how I can purchase upgrades to my classes. I also enjoy how I can customize the class depending on what my needs are - time, intensity and course. Absolutely love!
Convenient and challenging
by Balance9
I appreciate being able to hop into class without leaving my home. I also appreciate having a different format to keep me on my toes.
An excellent app! Very accessible for the blind
by Cindy Guilliams
I love this app I like the environment exercises, and the poses area where you can find descriptions of each pose. It is very good for beginners as well as advanced yogis. I also like that it is accessible for the blind using the voice over on iOS devices thank you for a wonderful teaching app. I am already recommending it to my friends.
Convenient yoga
by Long time ING user
I can only go to the gym so often. Once winter comes, I naturally become lazy. Pocket yoga keeps me active at home. I am still using the 30 min beginner. Once I develop some stamina, I will move on to the next level.
Handy and easy to use
by busy yogi
Easy to use at home and on the go. Like the calming music.
Perfect for home/travel use
by cqueen123
Great app, all the basics of yoga in the convenience of home/hotel/whatever the locale may be!!!
Love this app!
by Fuss3161
Has such clear and concise pictures and narrative. Wonderful for a beginner like me, especially when don't want to run a long playing video.
Great
by Jrwelty
This app is very convenient when I can't get to the studio- I love the flow of the sessions, it gives wonderful movement instructions and pictures! I hope they continue to add new flow sessions to their library!
Newbi
by Pol2man
I've been using for over a year and love it.
Definitely worth paying for the full app
by Greenfern92
Went ahead a payed for the full app and man do I really love it. I've tried so many times and many different mediums to learn yoga and this is honestly the best thing I've used so far.
Perfect
by Tksearles
This is a must! I love this app for quick flows, and for solidifying me sun salutations
The lady's voice...
by Mikeyboy117
Good app. The lady's voice is so robotic and annoying sometimes that it becomes a distraction while trying to focus.
Pocket Yoga
by flame5
Love this app can do yoga anytime I wan to
Good app
by stefmagura
I really like that this app includes vocal instructions for the poses and for the practices. As a person who is blind, this is important. I also like that it is set up to where I can choose different types of practices to do. The only downside is I have difficulty pressing the buttons which allow a person to change their practice duration, or difficulty level. Is it because the app doesn't work with my phone well, or because this is the feature that I have to unlock? For what it is worth, I use a feature on my phone called VoiceOver which allows the phone to read things back to me on the screen.
Great for the price!
by Emrg113
It's very user friendly, has plenty of options to work through from beginner-expert. Each session is a good workout, and it ends with a great relaxation rest. The only critique I could give is to have better animations, background visuals and instructor voice options to make the entire experience near flawless!
A fix is needed
by Gardener in Progress
When I open the app and tap on a particular session, the app closes and send me back to my homepage. I'm unable to use it, very disappointing.
A little Repetitive
by clarkplanet
Positions change too often and too many forward bend and downward dog loops. I'm not even flexible for a full forward bend as a beginner.
App is good, needs better support
by B. Bowen
If you've never done the poses before, you'll need a little practice before you get the hang of it (it does move pretty quickly), but overall the animations and voice guidance are very helpful. However, while the app is simple to use during the actual yoga, I've had nothing but issues getting it to sync properly with my Apple Watch. First the workout showed up, but not the active calories. Now, nothing shows up at all. Heart rate shows during practice, but then zip in the Health app. I've contacted support with screen shots, and heard nothing back.
Really good even for beginner
by Skinnybaker
I read the reviews before downloading...many said that you really needed some amount of yoga experience to use this app well. I disagree. I have never done any yoga, I don't know any terms or any poses. I did a beginner "class" with this app and it was fine. It does move fairly quickly from one pose to the next in a few places and I could not always keep up, but I am guessing that this would be the case in a "real live" class as well. Once I know the names of the poses, it will be easy enough to get where I need to be. When I was slow responding, fine, let it go, I would just jump back in on the next pose. I am sure my posture was a bit off, at least some of the time; but as long as you can look at the picture and see where your body should be, you should get it right fairly soon. Everything has a learning curve, whether you have someone teaching you or are learning on your own. I do have a bit of an advantage; I have been a world medalist in a martial art which requires me to get my body in the right position quickly, and to be able to move from one to another randomly, quickly, and accurately. However, the positions required by yoga poses are nothing I have ever done before. I like this app and would recommend it to anyone who has any interest in yoga.
Voice
by 123456789;0
The app is terrific by all means but from a personal pov the voice that's supposed to guide our session is very soothing as to what I feel a session should be like. Too stern honestly.
The yoga habit
by cschuster
I love having three basic practices with variable timing (30min, 45, 60) -- no excuses about too little time, and easy to incorporate into my routine. Love!
Great purchase
by Drallisond
Apparently, if you don't sync the Watch at the start of the workout, it will only give you credit in the health app for time it was synced....super annoying. Made me miss my goal BUT... I do like the app, just want bigger variety and ability to adjust time in more increments.
Really good
by patriciajones82
This is one of the best yoga apps I've found. Love to use it with my Apple Watch!
Great
by Fartsfromunder
Amazing
Good Yoga app
by DWG22
Keeps me motivated to do yoga daily if I have just 5 minutes , 30 minutes or more.
Too Busy to Get to a Studio
by PNP Wow
I love yoga. I've wanted to restart my practice for so long. But life gets in the way of getting to regular Vinyasa classes. Pocket Yoga made it possible to build up my practice again. Fabulous!
I've been using this app for over four years
by Nicktilton94
I have used this app for over four years and it's a fantastic app. I love the customizability of the workouts (especially if you have the companion app) and they regularly update it as needed. Choose this app for an Apple health app compatible yoga app
This works for me
by hettingr
I use this first thing in the morning on days when I don't go to yoga class. So far so good! Update 2017: I've had this app since the first iPhone came out. Pocket Yoga is a lifesaver for me. Believe it or not, I have two issues I work on, and I can tell within four days if I neglect the workout. 1 >Degenerative disk disease of the neck causes intense headaches for me, and the yoga workout is the only thing that controls them. And they are nonexistent when I practice regularly, every day or two. 2>My family has this history of toes crossing over each other in old age, and mine are creeping that way, but yoga lets me work on that and keeps them relatively straight. Oh, there's strength, flexibility, feel good and morning meditation. So, you are appreciated. I post my practice all the time (publicly) to say thanks and recommend this app.
Very good
by Regular Guy in Indiana
This app is well done and super useful. My only critiques -- which won't keep me from using and recommending this app -- are: 1. The audio sometimes skips telling you whether to bring your left or right forward for a lunge. Please add those directions as not knowing messes up the flow. 2. There is quite a jump between the beginner level and the intermediate level. So you'll need to supplement this app with live instruction. It would probably be asking too much to add instruction that breaks down new poses between levels. Overall, this is a great app with few bugs. Nice job and thank you!!!
Since 2012 - still incredible
by Yadayada1234
I have used this app since 2012 and it continues to be my app of choice when it comes to in home or on the go yoga. Thank you dev for such a great app!
They are lying
by Ghalawee24
In the picture they put that they count your calories but THEY DON'T!!!
Wonderful yoga app!
by CooksAlot507
I live this app - easy and straightforward to follow - clear visual, and good audio that doesn't require much looking at the screen. So many options for short, medium and long sessions at different levels! I haven't done yoga for a while, so I'm starting at the beginning level (which is still nicely challenging) - then as I keep doing it and get stronger, I can move into the next levels. Excellent app!
Love it
by 818oni
I've been using this app for years, it has helped me with my weight loss and work related stress. I'd recommend it to anyone that wants try yoga for the first time instructions are simple and app is easy to use.
Great App
by LizardT.
Wish there were more practices to choose from, but I love what's on here. Love that it syncs to my Watch.
Clearly the best yoga app!
by PleaseEnterName
Clearly the best yoga app!
I ❤️ Pocket Yoga
by Ammenammer
This is my go-to app for a good challenging yoga practice. You have to have some knowledge of the poses to get started, but this app grows with you, offering different levels of difficulty, different lengths of time on 5 different practices. I've been using it for years!
No voice
by KCat the Bat
What happened to the instructions? The voice is enabled on my settings, but it's simply not there.
Best Yoga App I've Used So Far!!!
by Nyc211
Great easy step by step instructions. Music is relaxing, I can feel the burn but feel at peace.
Loved it but
by knock out one two four
I have used this app on and off for about three years now. I really do love it and if I could give it a 4.5 I would but I don't live it enough to give it a full five stars. My biggest peeve is the lack of variety. I have gone through all the sessions and I'm just looking for something new and some variety. I have used the Yoga Teacher that is part of the package and I also enjoy that but it has a slew of problems so it ends up being too much of a time investment
Simply the best
by Brucer2
I've been doing yoga via various apps for many years now. Pocket Yoga along with the new Pocket Yoga Teachers app make up the best and most complete yoga practices available. As a stand alone app Pocket Yoga is a wonderful app for all levels.However for the more experienced practitioner adding the new Teachers app makes this combination all one really needs to have a total and complete practice at any level. My hat is off to the Pocket Yoga apps crew. Wonderful work, people.
Great yoga app for a novice!
by rochomb
The clear direction and consistent programming is really helping me learn. Thanks pocket yoga!
Love this app!
by Laurabsol
I already knew some yoga but I love that it has a list with pictures of the poses being used!