Texas Holdem Poker
by
GeaxGame Inc
(1,158 user ratings)
FREE
Download size: 41.7MB
Version: 3.6.0
Released: 2011-07-13
For ages: 12+
Do you love poker? Do you want to play with real people whenever and wherever you want? The only thing you need is your mobile phone and internet connection! Now just add a bit of skill and you'll have your first winnings! It doesn't really matter whether you are a newbie without basic knowledge of rules or a weathered poker-shark, you will find a table suitable for you. Come and join the club where poker fans from all over the world gather to play and chat about the best gambling game in the world.

Game features:
* Live Chat
* Personal Avatars
* Sit-n-Go tournamet Mode
* Ring Games
* Free daily Gold
* Lottery Draw
* 200+ Virtual goods you can send ppl on tables
* Facebook connect for fast registration (optional)

We request the following permissions for the following reasons:
- Network communications –
1.To play online with other players.
- Phone calls: Preventing "phone time-outs" in the middle of the game.
- Vibration: Notification in silent areas.
- Billing: To enable a possibility of purchasing premium services.

If you love poker, come and join the club for devoted and occasional poker-players alike. Getting in is easy. Just click on the button and download the app now for free.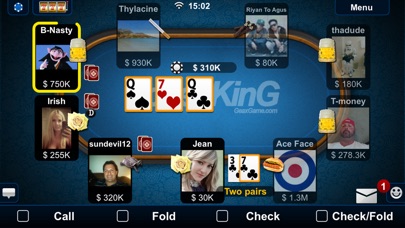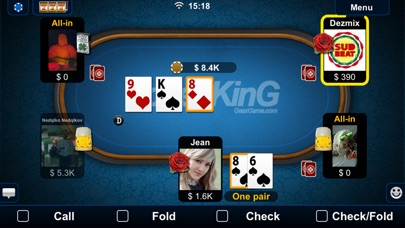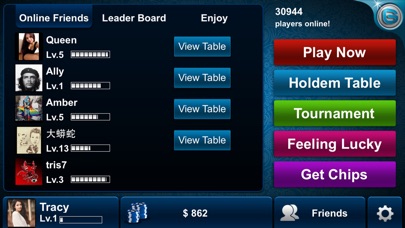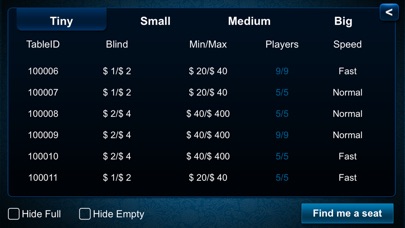 Powered by Facebook Comments
Customer Reviews
Nice APP
by Jameschen323
So funny
BS cheating scamming developers with fake RNG
by dankur101
Con artists rigged game play unless you pay for play money! This scum of the earth is the most fraudulent cheating online poker RNG I've seen to date! Scamming username orchestrated BS is all you'll find here!
Slow it down just a bit
by Feathers24356796785@$
When you are head to head with someone, you need to roll the cards one at a time. In one second intervals. It creates a moment. Even for those that have folded.
RIGGED APP!!
by ŃETA
After three years of grinding in this poker App all of sudden they frost my account and No customer service at all...👎🏽👎🏽👎🏽
Cheats
by Chillin cuz
I rate this poker app at 8 out of 10, the players would concur that the other 2 point deduction, Is from the lack of a social interface. Use your imagination or here's an idea, add an option, that could allow "player's" added as friends to form groups at private tables for additional chat options. I believe with this type of dynamic gaming and social interface your app would be the go to place and worthy of a rating of a Bo Derek, a 10 for all you youngster's out there. I want to thank you for the opportunity to address an otherwise great app. They call me Cheats but in all actuality I'm an as honest guy trying to make a dollar out of 15 cents!
Very fun
by Boogerwoman
Good play, learning a lot. I'm ambrosea, Rosie for short. Go broncos, go Colorado state rams
Flawed
by Tikka Owner
If you don't mind unrealistic play and a flawed game that lets 3 of a kind beat a flush from time to time, this game is for you. If you are a serious poker player, go elsewhere because I've witnessed unbelievable runs of luck that just don't happen in real life. I even took the time to notify the creators but they could care less. They feigned interest asking for a screenshot but there is no time at the conclusion of a hand to capture it. If you are strictly looking for entertainment, you might be satisfied with a game that has inherent flaws.
Good game. What else needs to be said?
by CJRodman
...
Great game, timer needs rework
by jake_999
I can't be the only one who loves the game, but hates the perpetual timer. Update to solid unmoving green which evolves to moving yellow and red. The idea being if you're like most players who finish before the timer stops being green, you would not have to watch it move while deciding your play!
Not basic poker 101 rules.
by Bhouck28
You make a poker game and you can't even get down the basic rules. How pathetic. Never ever should the Dealer be Big Blind. How can you make a poker game and not even know the basic rules.
New account.
by Stupot4u
Had to open new account, as my original account I had for a couple of years just disappeared when I up graded my iPhone to a apple 7 plus and for a reason I don't understand why pokerking failed to transfer !!, which I had over one million chips left on the old iPhone, are you able to confirm & add the chips I lost in the transfer process ?, very much appreciated, hopefully you are able to fix my request, thank you......!!
Fun
by REWARDER
Wish I was good at it .....🤓
Fun Stuff!
by Wolfmo123
Always fun to play some poker but too bad there are pervs left and right all over the platform! Provocative photos on profiles. Pretty annoying but oh well!
Excellent
by Mino monster lover 11
Very good
The best entertainment
by GGdgthhuujjjhdssdf
Best entertainment!! Spend hour a day!
Holdem....
by razz65
Really enjoy playing. The "all" in players, out of the gate. Frustrating. There's no skill involved. Lol I enjoy PLAYING cards... bluffing.... surprising.... strategizing.... You know, playing holdem. I do enjoy hearing where different players are from. Absolutely everywhere. Awesome. Great site. R. Hoffer
Amazing!!!!
by KSoule1961
Love this game
Different app - same BS!
by "&$8965:(;35$!
App claims randomness- but don't believe that! Never seen so many bad beats on this - flopped sets over sets and rivered higher boats beating flopped or turned lower boats! Don't think your trips are any good either - chances are someone else has same trips with a higher kicker or a boat! Maybe if you actually buy chips it'll favor you more in these situations- but if you wanna play for free count on being victimized by bad beat after bad beat! I play live poker fairly frequently and I've seen as many bad beats here in about a week as I've seen over probably a few months of live games! I'll be deleting this app off my phone ASAP!
#1
by Sam21212121
Nice App
Rigged Garbage
by QSE1-4
Came back to see if any changes had been made. Nope. Still rigged bingo garbage. Pathetic.
Great game wish
by Maddicsmith
Love to play this on my spare time, I wish more people played like it was real money and play for real and not bet $5,000 on the first bid, I get its fake but how will you get good if you just throw your money like that? That's somethings the game makers can't control but I wish there were more videos for free coins instead of having to download and start up said app for free coins, otherwise I'm fully hooked
Great!
by Magic man 4567899
Love this game!
Very good
by k a 37
This game is very cool
Good
by MattSodaro
Love it
Absolutely awful
by Bob poker
By far the worst, fakest poker game I've tried. You'll go dozens, maybe a hundred hands without winning until the lowlife company forces you to have to buy chips to continue playing. You'll notice the deal algorithms are written by five year olds; I'll get 2/5 off-suit four or five times in a row. Terrible app, avoid.
America
by #BigNasty
Pretty dope
Newbies Will Win!
by Yaddaboy
I've played the game for a number of years and one aspect of it that I've become quite aware of is that all Newbies (those with 2000 hands played or less) will win 95% the hands! You play KK and Newbie has AA! You play AAA, Newbie has Straight, you play Straight, Newbie has Flush, you play Flush, Newbie has Full House, etc, etc, etc! I understand that players are going to be beat this way, but with Newbies, it's pretty much a guarantee they'll take the pot! But what eventually happens is the Newbie will with one hand lose it all, but because they've won so handily in the past, THEY BUY MORE CHIPS! Cha-Ching for Poker King! Moral of Story, you got a great hand up against a Newbie, FOLD because you'll lose, GUARANTEED!!!
STILL THE BEST
by search555333
Honestly
I strongly recommend this game
by hunter48464
It's a very fun and intuitive game if you don't no poker
Find another Poker game
by Guywhoknowsawesome
Having played with this app for awhile now I can now say with all certainty that the cards are not random. Im sure it involves some algorithm set in place to reward new players and people who buy into the game. Far far too many wildly unrealistic run of amazing hands. When I paid money, I got great runs of cards, when I didn't not so much. In fact the opposite. If you want mindless button pushing any of these apps will do. If you want to play poker for free I highly suggest trying another app.
Ne ploxo
by Gaiwnik077
V principe
Poker
by ednolb380z
It's easy to follow and it's poker Texas hold them who doesn't like that and who doesn't like it when you win! I would choose this Game first because it's poker second because it's so easy to play it's not complicated they don't interrupt you it's a great game try it if you don't like it you can always delete it but I won't
100% crap
by Turbo9669
Biggest waste of time I ever had to give me aftermarket, 500 freaking steps to attempt to logon just to play a game of cards not worth it at all I recommend you go elsewhere.
Amazing
by Carlybabyy
I Iove this app so much !! Rewards are amazing 😉
Great App
by Mac 5150
I love this app! I used to play poker every Saturday at a friends house and I had trouble figuring this particular game out. Thanks to you I have no only figured out how to play but have done well!
Must be online
by Unfurled urn
Completely Unnecessary
Poker face
by Stl Dee
Great app! Great tournament!!! You won't experience what I'm talking about til you get the app an try!!!!! I waiting to take your chips STL DEE!!!!!!🤑🤑🤑
Chips
by Successdriven12
If u run out of chips then you have to slowly build up and it takes a lot of playing to do that....for free play...not worth the effort
Best one I've found
by 3490haha
It's relaxed and with real people. No harassment from other players. Everyone enjoying their gambling addiction!!! Lol
Downhill
by kgg70
Used to be a great app - fun poker - for free. But suddenly takes your cash. My advice, play tournaments otherwise you play a bunch of loose cannons. Crapshoot if you play cash games - i.e. No cash - no skin in the game. Sadly, app has gotten buggy - shuts down - and takes your fake cash. Shame as it was solid fun.
Awesomeness!!!
by StakSteel
Love this app. Learning a lot and getting practice with real ppl.
Rigged
by Rickyboy1992
The higher the stakes in the tables, the less the odds are in your favor. Stick with medium size tables. You'll eventually reach 1Mil this way.
Mad Af
by Beastie_boy83
I lost all my money even though I had better cards, I had two pairs while a high card wins the money!!😏😏
Texas Holdem
by Ted197676
Great game. Only complaint is how quickly the winner results go away. Need to keep it on screen for 3 seconds more. Other than that, very enjoyable. Theodore Yocum
Good
by Mr Fussie
It's fun and ppl are always playing
Love it!!!
by bluffing all the time
Most realistic poker game online. Real players and sometimes unrealistic plays but overall a great app for poker. Download and enjoy hours of entertainment!
Poker
by Kay082010
This is a great game to get a good game of poker. The players are smart for the most part and you can get a table for any level. Recently I upgraded to a new IPAD and they made sure I did not lose my chips. Thanks for that. Play this game and you will keep coming back.