Texas Holdem Poker
by
GeaxGame Inc
(1,059 user ratings)
FREE
Download size: 41.7MB
Version: 3.6.0
Released: 2011-07-13
For ages: 12+
Do you love poker? Do you want to play with real people whenever and wherever you want? The only thing you need is your mobile phone and internet connection! Now just add a bit of skill and you'll have your first winnings! It doesn't really matter whether you are a newbie without basic knowledge of rules or a weathered poker-shark, you will find a table suitable for you. Come and join the club where poker fans from all over the world gather to play and chat about the best gambling game in the world.

Game features:
* Live Chat
* Personal Avatars
* Sit-n-Go tournamet Mode
* Ring Games
* Free daily Gold
* Lottery Draw
* 200+ Virtual goods you can send ppl on tables
* Facebook connect for fast registration (optional)

We request the following permissions for the following reasons:
- Network communications –
1.To play online with other players.
- Phone calls: Preventing "phone time-outs" in the middle of the game.
- Vibration: Notification in silent areas.
- Billing: To enable a possibility of purchasing premium services.

If you love poker, come and join the club for devoted and occasional poker-players alike. Getting in is easy. Just click on the button and download the app now for free.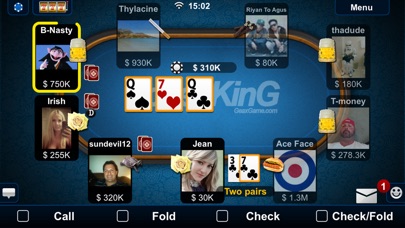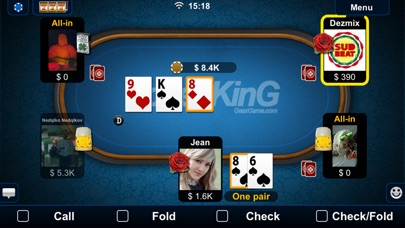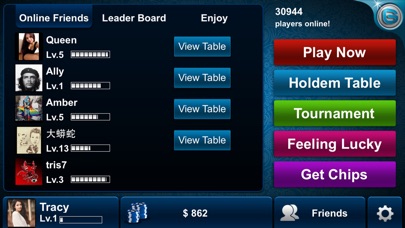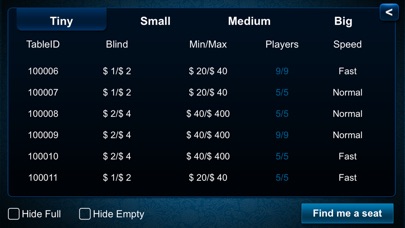 Powered by Facebook Comments
Customer Reviews
Good
by MattSodaro
Love it
Absolutely awful
by Bob poker
By far the worst, fakest poker game I've tried. You'll go dozens, maybe a hundred hands without winning until the lowlife company forces you to have to buy chips to continue playing. You'll notice the deal algorithms are written by five year olds; I'll get 2/5 off-suit four or five times in a row. Terrible app, avoid.
America
by #BigNasty
Pretty dope
POS cheating username dealt pole smoking developed con artists
by dankur101
This is the most rigged username RNG I've ever seen online. Over a million hands played online ( poker stars, bogdog, betonline, ultimate bet, 365, refer poker, and etc...and a play money no gain scum of the earth con artists poker app Poker King is the worst! You'd be an idiot alone to give these crustaceans a penny alone for play money; more so how fraudulent they are in the RNG! This piece of crap stuck on the piece gum on the bottom of your shoe are con artists cheating POS developers with there username shuffled flopped, flipped and turned RNG! Scum of the earth stealing your money if you were stupid enough to give them any for fake money. This app's RNG is fake just like they are and why they don't keep card history!
Newbies Will Win!
by Yaddaboy
I've played the game for a number of years and one aspect of it that I've become quite aware of is that all Newbies (those with 2000 hands played or less) will win 95% the hands! You play KK and Newbie has AA! You play AAA, Newbie has Straight, you play Straight, Newbie has Flush, you play Flush, Newbie has Full House, etc, etc, etc! I understand that players are going to be beat this way, but with Newbies, it's pretty much a guarantee they'll take the pot! But what eventually happens is the Newbie will with one hand lose it all, but because they've won so handily in the past, THEY BUY MORE CHIPS! Cha-Ching for Poker King! Moral of Story, you got a great hand up against a Newbie, FOLD because you'll lose, GUARANTEED!!!
The best
by GGdgthhuujjjhdssdf
Best entertainment
STILL THE BEST
by search555333
Honestly
I strongly recommend this game
by hunter48464
It's a very fun and intuitive game if you don't no poker
Find another Poker game
by Guywhoknowsawesome
Having played with this app for awhile now I can now say with all certainty that the cards are not random. Im sure it involves some algorithm set in place to reward new players and people who buy into the game. Far far too many wildly unrealistic run of amazing hands. When I paid money, I got great runs of cards, when I didn't not so much. In fact the opposite. If you want mindless button pushing any of these apps will do. If you want to play poker for free I highly suggest trying another app.
Ne ploxo
by Gaiwnik077
V principe
Poker
by ednolb380z
It's easy to follow and it's poker Texas hold them who doesn't like that and who doesn't like it when you win! I would choose this Game first because it's poker second because it's so easy to play it's not complicated they don't interrupt you it's a great game try it if you don't like it you can always delete it but I won't
100% crap
by Turbo9669
Biggest waste of time I ever had to give me aftermarket, 500 freaking steps to attempt to logon just to play a game of cards not worth it at all I recommend you go elsewhere.
Amazing
by Carlybabyy
I Iove this app so much !! Rewards are amazing 😉
Great App
by Mac 5150
I love this app! I used to play poker every Saturday at a friends house and I had trouble figuring this particular game out. Thanks to you I have no only figured out how to play but have done well!
Must be online
by Unfurled urn
Completely Unnecessary
Poker face
by Stl Dee
Great app! Great tournament!!! You won't experience what I'm talking about til you get the app an try!!!!! I waiting to take your chips STL DEE!!!!!!🤑🤑🤑
Chips
by Successdriven12
If u run out of chips then you have to slowly build up and it takes a lot of playing to do that....for free play...not worth the effort
Best one I've found
by 3490haha
It's relaxed and with real people. No harassment from other players. Everyone enjoying their gambling addiction!!! Lol
Downhill
by kgg70
Used to be a great app - fun poker - for free. But suddenly takes your cash. My advice, play tournaments otherwise you play a bunch of loose cannons. Crapshoot if you play cash games - i.e. No cash - no skin in the game. Sadly, app has gotten buggy - shuts down - and takes your fake cash. Shame as it was solid fun.
Awesomeness!!!
by StakSteel
Love this app. Learning a lot and getting practice with real ppl.
Rigged
by Rickyboy1992
The higher the stakes in the tables, the less the odds are in your favor. Stick with medium size tables. You'll eventually reach 1Mil this way.
Mad Af
by Beastie_boy83
I lost all my money even though I had better cards, I had two pairs while a high card wins the money!!😏😏
Texas Holdem
by Ted197676
Great game. Only complaint is how quickly the winner results go away. Need to keep it on screen for 3 seconds more. Other than that, very enjoyable. Theodore Yocum
Good
by Mr Fussie
It's fun and ppl are always playing
Love it!!!
by bluffing all the time
Most realistic poker game online. Real players and sometimes unrealistic plays but overall a great app for poker. Download and enjoy hours of entertainment!
Poker
by Kay082010
This is a great game to get a good game of poker. The players are smart for the most part and you can get a table for any level. Recently I upgraded to a new IPAD and they made sure I did not lose my chips. Thanks for that. Play this game and you will keep coming back.
Hang in there
by Golpher killer
A very sexy game. Here is where you can learn the game without a expensive education.
So much fun
by Bbear_JFS
This is the best poker app I've come across
Love it!
by Jay729263$/92937
Love playing real people
Good game
by ToYomommaxxxzzzsadfatguys
Never liked poker now I do
Poker
by rcbluff
Love it.
Good App!
by jackkijun2004
I really love this app.
Rigged Poker
by Dcosco
They want to make it look like luck, so the game is always decided on the river. I have pairs of Ace or Kings, I never win. It's fun for beginners but not for real good players. It's not even close to the real poker.
DA BOMB!
by TopDawgnLA
5 ***** across the board...
Poker game
by Jakeharris899
Best game I've ever played
EntertainIng. I feel like I am playing real poker in a casino.
by Ulanaraw
Try it.
Fun app
by Zzrrttpprwki
Great for practice and learning strategy.
Good Texas Holdem App
by Bear Claw Chris Lapp
I play this a lot. I like the different kinds of games and tables that you can join.
One problem
by CurlyFries.Youtube
Before you download this consider the fact that you cannot play with android users and I wanted to play with my cousin😖😖😖
Rigged Bingo Garbage
by aa1111
Sorry, slimy rigged bingo. Bet big with nothing and hit. Better read the mountain of bad reviews on this before throwing your money away.
Very fun
by Khai B
You can get free chips and it does not cost anything to play, you can get chips if you want. Good app and good quality.
Master greer
by Mastergreer
I love being able to play with many different people from around the world at any time!
Don't download!
by Fanciegal
Not impressed. It's fake money but to start you with 400 chips and people at the tables are all in every single hand it's a joke! I sent them feedback. I never spend money real money on games. Will just end up deleting this one and try others.
Boker
by faroukxx
It is a beautiful game
FUN
by Bridgestar2
I enjoy this game except when other people say inappropriate comments!
Great time passer
by Tracy's end
Love this game, play every chance I get
Fake
by tim276599
To start you win at much better than possible rate and then if you don't buy chips you will barely win again. Have fun with that.
Poker
by ptownfinest
Awesome
Smooth and fun
by Hydronoid123
The game runs pretty smoothly, just seems like the cards aren't genuinely random, but still fun.