Texas Holdem Poker
by
GeaxGame Inc
(1,302 user ratings)
FREE
Download size: 41.89MB
Version: 3.6.0
Released: 2011-07-13
For ages: 12+
Do you love poker? Do you want to play with real people whenever and wherever you want? The only thing you need is your mobile phone and internet connection! Now just add a bit of skill and you'll have your first winnings! It doesn't really matter whether you are a newbie without basic knowledge of rules or a weathered poker-shark, you will find a table suitable for you. Come and join the club where poker fans from all over the world gather to play and chat about the best gambling game in the world.

Game features:
* Live Chat
* Personal Avatars
* Sit-n-Go tournamet Mode
* Ring Games
* Free daily Gold
* Lottery Draw
* 200+ Virtual goods you can send ppl on tables
* Facebook connect for fast registration (optional)

We request the following permissions for the following reasons:
- Network communications –
1.To play online with other players.
- Phone calls: Preventing "phone time-outs" in the middle of the game.
- Vibration: Notification in silent areas.
- Billing: To enable a possibility of purchasing premium services.

If you love poker, come and join the club for devoted and occasional poker-players alike. Getting in is easy. Just click on the button and download the app now for free.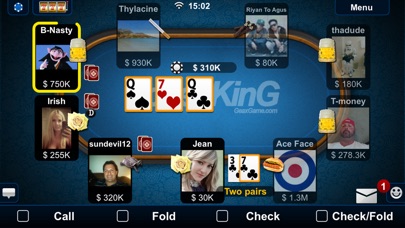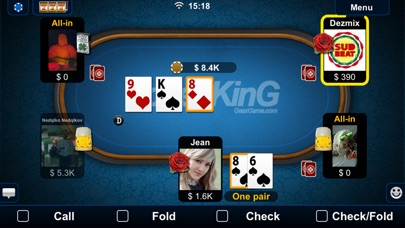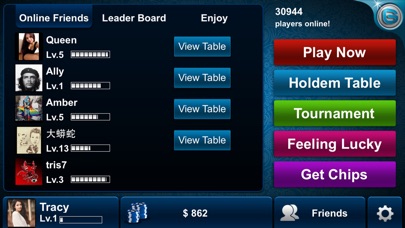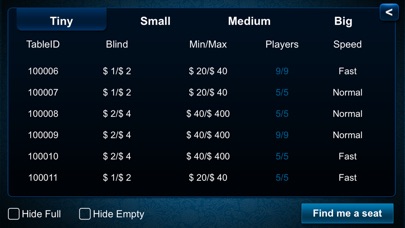 Powered by Facebook Comments
Customer Reviews
Good game
by All USA Vending
Good game
Bingo rigged garbage
by QSE1-4
Can't believe this trash game is still around.
Much more realistic poker game app!!
by Yaredmamo
I really enjoy playing poker with this app. The only reason I gave it 3/5 stars is because its missing a key information from the personal stats. I will go back and give it 5stars if they fixed the issue. Issue: Your personal stats doesn't show how much poker tournaments you've played, how much you've won/lost. Instead, it just shows a percentage. So you could just play one poker tournament and if you win, your stat will register 100%. In my opinion, fixing this will make the game more competitive and interesting. Also, it will reduce the number of idiots who go "all-in" on the first round. Like I said above, fix this and I will give it 5stars.
Free & Fun
by Hdblueangel
Connection problems sometime kick me out of the game.
Tired of all the juiced hands ...
by Douglas~
Giving this (nice-looking) app 1 star for one reason: I'm so tired of all the juiced hands to make game play more "exciting." It's absurd. Three of a kind beaten by a flush. Two pairs loses to a straight. Over and over. Every. Single. Time. Just deal straight cards! That would be more exciting in the long run because that's real poker. Here, if you're dealt a pair underneath, just fold, for sure you're about to be played as a chump.
Poker
by Schmidty2010
Game is slow
Great at first
by BuddhaBri
Can't get hand for the last month????
Great game
by Ron Naylor
Best poker game out there
Rigged
by Tikka Owner
This game is totally unrealistic and not even close to random card draw or fair play for that matter. The program creator knows it. Just play for a while and you'll see the trends. Lower level players will get better cards period. Runs of luck can be hysterical and unbelievable at the same time. Commonly, they come in back to back hands. I've seen so many rabbits pulled out of buttholes it is no longer funny or amusing. Just so you know what you are in for going in.
Rigged Piece of Garbage
by aa1111
Nothing worse than a rigged computer game. Don't be suckered into chips.
Good App to have
by Dang nick name
Good App to have
This is got to be the most fraudulent free online game play possible
by dankur101
I get at least a 2 or 3 in my whole cards 80% of the time day after weeks! 50% of of my B.B.,sb and button it's both 23 off suited! Nearly 80% of my very rare trips they have 4 suited cards on the board! You can apply odds to any scenario and, here you'll see the computer generated card scam they are! Even luck is a program here; bought game play at best! In my eyes, it would be stupid to pay even a legitimate RNG for play money! Scum sucking scoundrels stealing money from those foolish enough to allow it though! Rigged username dealing shuffling RNG scum developers!
Rigged bad game
by TheMan817
If it wasn't rigged then I'd like it's more of a online dating site. It seems whenever you get to bigger tables hands will favor the Regulars, not just losing you'll see if you play. Horrible game download a different app
Poker king
by turning into a racist
Keep stupid as white racist off the tables
Take your pick.
by Duwop3280
If you're looking to play against double sitters, triple sitters, teams sharing cards, bad support, and setups to the moon and back, LOOK NO FURTHER!
Horrible
by dannyboy1373
I have noticed several times I have the same hand as the player next to me. I was doing good for a couple of days then I get horrible cards hand after hand. I played for three hours with no AA, KK, QQ etc. I will get rid of this. I will not buy any chips...ever. One guy at the table will always flop an ace...the same guy over and over.
Great game
by Whatever!!!!7$$$$$57,/$$.
I play this game often. Great entertainment & helps you learn the basic fundamentals of playing poker.
Great app!
by Shaingame11
Nice app, works great! Love that they give bonus chips daily!!
Not real poker
by chipldr
Unrealistic poker. Doesn't matter if it's a 5 or 10 person table everyone has a piece of the flop. I've never seen So many straights and full houses in poker. Players can buy unlimited chips no value in the play. You will not improve your poker play with this app. I've had this app for several years and it's gotten worse.
Game is fixed
by 🗽🗽🗽🗽🗽🗽🗽🗽🗽
Game is fixed. Terrible app
Awesome
by MWuthrich
Lots of fun
Great poker game
by Glenrapglenn
After trying several games I️ tried this one and was as skeptical as ever. After the past couple days I️ realized that this was the best free online poker game there is. You get tons of free chips with to play throughout the day, plus if you wanted to buy some they are very cheap. All in all amazing poker game!
Good game
by amisours
This game is really fun everyone likes boys
Server freezes
by ztopp
Server constantly freezes and takes your stake
Payers
by some loser in high school
Great poker game , but too many bingo players.
Good app for a fun game
by Brownsville Bob
After trying numerous card apps I found this one and have really enjoyed it for its ease of use and quick playing time if you use the fast tables. Give it a try you will like it.
Ms
by Me and my birds
I like this site
Poker
by Anhbuffalo
Wow best app I down load
The Truth
by ZomBQ
Enjoyable play overall as long as one understand that sometimes a hand is dealt only a computer could think up. A few improvements are needed. The fast game could be faster for more enjoyable game play. I suggest a vote off the island button. All it takes is one jerk to destroy a whole table so it would be nice by a unanimous vote to boot off troublemakers. Give it a try and see you on the tables.
Good, but could be better
by Casman52
I have really enjoyed using this app. The free chips are always nice. And the app is easy to use. My biggest complaint is when two or more people go all in before the river, everyone at the table should be able to see all their hands while the cards play out, not just the winning hand. Or when you call someone on the river, a basic tenet of poker is you gotta "pay to see them", but if they lose, you don't get to see them. This would be a nice addition.
Awesome
by Ufhkjvdrfhh
Awesome fun game
New account.
by Stupot4u
Had to open new account, as my original account I had for a couple of years just disappeared when I up graded my iPhone to a apple 7 plus and for a reason I don't understand why pokerking failed to transfer !!, which I had over one million chips left on the old iPhone, are you able to confirm & add the chips I lost in the transfer process ?, very much appreciated, hopefully you are able to fix my request, thank you......!!
Poker
by warelock
Great game lots of fun
Review
by Binky1916
Good times!
Obscene pics
by bradfc
Deleted after 10 mins of play when someone's icon kept coming up with an obscene picture. Disappointing.
GET "WORLD SERIES OF POKER" APP
by Yaddaboy
For those of you that are sick & tired of seeing ridiculous hands and getting RIPPED-OFF with PokerKing,,,PLEASE check out the "WORLD SERIES OF POKER" app! It puts this app to shame!!! Finally another app has taken PokerKing to the cleaners!!! At one time this app had 100K+ players playing at one time, now your lucky if you see 20K! Why? Folk are realizing that if you don't BUY chips, you don't win, PERIOD!!! WSOP deals RANDOM hands, PERIOD!!! Not even close with PokerKing!!! Do yourself a huge favor and check out WSOP app!!!
Review
by Krislore
Enjoy the ease of playing
Well designed
by Bigdogskis
I've played other games and this game by far is one of the better. You don't get to play for free and mingle with the other players. Great Job!
Doesn't follow rules
by CaptJV
The app "works", but it doesn't follow the rules for poker. Example: if someone bets, I call and I win the hand, it does not show the original better's hand. If I call, they are required to show. Also doesn't handle blinds correctly when people move on and off of the table. There is no scenario where I should be big blind 3 consecutive hands.
This a fun game
by Mickbro
But it has taken my money several times when I needed more chips and i never received the chips I paid for on game. Strongly dislike. And will not play until refunded my money !
Nice APP
by Jameschen323
So funny
Slow it down just a bit
by Feathers24356796785@$
When you are head to head with someone, you need to roll the cards one at a time. In one second intervals. It creates a moment. Even for those that have folded.
Cheats
by Chillin cuz
I rate this poker app at 8 out of 10, the players would concur that the other 2 point deduction, Is from the lack of a social interface. Use your imagination or here's an idea, add an option, that could allow "player's" added as friends to form groups at private tables for additional chat options. I believe with this type of dynamic gaming and social interface your app would be the go to place and worthy of a rating of a Bo Derek, a 10 for all you youngster's out there. I want to thank you for the opportunity to address an otherwise great app. They call me Cheats but in all actuality I'm an as honest guy trying to make a dollar out of 15 cents!
Very fun
by Boogerwoman
Good play, learning a lot. I'm ambrosea, Rosie for short. Go broncos, go Colorado state rams
Good game. What else needs to be said?
by CJRodman
...
Great game, timer needs rework
by jake_999
I can't be the only one who loves the game, but hates the perpetual timer. Update to solid unmoving green which evolves to moving yellow and red. The idea being if you're like most players who finish before the timer stops being green, you would not have to watch it move while deciding your play!
Not basic poker 101 rules.
by Bhouck28
You make a poker game and you can't even get down the basic rules. How pathetic. Never ever should the Dealer be Big Blind. How can you make a poker game and not even know the basic rules.
Fun
by REWARDER
Wish I was good at it .....🤓
Fun Stuff!
by Wolfmo123
Always fun to play some poker but too bad there are pervs left and right all over the platform! Provocative photos on profiles. Pretty annoying but oh well!
Excellent
by Mino monster lover 11
Very good