DP Control
by
MOTU Inc.
(99 user ratings)
FREE
Download size: 2.96MB
Version: 1.0.2
Released: 2010-07-26
For ages: 4+
DP Control from MOTU Inc. allows you to control MOTU's Digital Performer audio workstation software over a WiFi network using your iPhone, iPad or third-generation iPod Touch.

Built specifically for use with Digital Performer, DP Control gives you easy access to the most important transport and mixer functions for tracking, simple mixing, and live performance.

DP Control works in both portrait and landscape orientations. Designed with comfortably large buttons and controls, DP Control can easily be used with only one hand by pressing buttons and swiping to new pages with your thumb.

Feature highlights:

* Real two-way communication — everything that you update in DP updates in DP Control, and vice versa.

* Editable time counter with selectable format (including real-time, SMPTE time, samples, and marker names).

* Main transport control and many other transport-related Control Panel functions (click, countoff, memory-cycle, etc.)

* Page-controlled, scrollable mixer with animated, recordable pan knobs and volume sliders, plus level meters and peak indicators.

* Solo, Mute, Record-enable, Play automation, Record automation and automation mode settings for each track.

* Track list for your DP project, complete with collapsable nested track folders and dynamically linked track organization that matches your currently open DP project on your Mac.

* Infinite undo, with a view that shows you the names of the next and previous tasks in your DP document undo history.

* Marker creation and naming.

* New Take, Previous Take, and Next Take functions that operate on all of the record-enabled tracks at once (essential for tracking drums).

* Take selection, by name, for individual tracks. Also New Take, Delete Take, and Rename Take for the current take on any individual track.

* Save function for saving changes made to the DP document.

Requirements:

- Compatible with iPhone, iPad, and third-generation iPod Touch
- Not compatible with first or second generation iPod Touch
- Requires Digital Performer 7.2 or later running on a Mac on the same WiFi network as DP Control
- Must disable your Mac's firewall, or enable communication to Digital Performer through the firewall
- Must turn off BlueTooth on your mobile device before running DP Control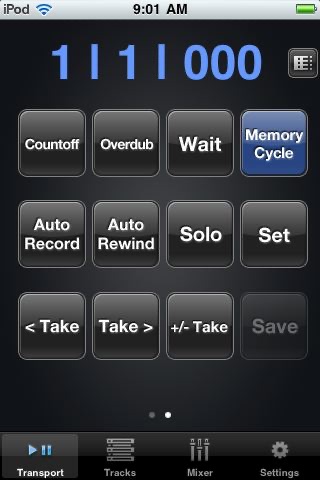 Powered by Facebook Comments
Customer Reviews
PLEASE UPDATE THIS APP!!!
by SlipHSLB
I miss using it for mixing.
Last update 8-ears ago?!
by Greasy Willy
Clearly they don't support their product line for the long haul ... unless you constantly pay for updates for their hardware interfaces and DP software I wonder if MOTU is on the way out ... I've used their software since v 1.5 ... now DP is 9.5 ... what up?? Please update this dinosaur!
Why has this App not been updated?
by Mei Mei and Punim Grrl
I am OK if you added e remote control for DP in MOTU Discovery. It's just crazy you do not have a remote virtual control for the MOTU DAw. No brained since you have WiFi capability for all your new interfaces.
Please
by MSSpencer
Update ASAP!!!!
Please Update
by Enricochet7
Needs updating !! Love this app Will give star #5 upon update !!!
Pleas update to OS 11.2
by klh330
This is a great app except that it has not been updated to work with OS 11.2. Thus the 4 star rating. Please MOTU, update the app. I was able to use my phone to record solo in my studio from the recording booth. No more. Now I make the dash from the control room after hitting the record key on my desktop or I have to hire someone to run the DAW while I perform. Neither methods are satisfactory. I am not interested in other apps either. This did such a good job. I even used it for live performances to trigger sequences on a laptop. Was a great dynamic for my band's shows. So, as I long time DP user (almost from inception), I am just politely asking for an update while your company continues to develop its other products. I don't think I'm alone in this request, but even if I am, you'll continue to have a customer for life. Thank you in advance for any and all courtesies.
Update Please !!!!!!!!!
by Bobby James ..
Update for iOS 11 compatibility - It's been out to the public for 6 months!!!
Was great, now Outdated
by Gingau
Marvelous having this app as a controller. But now that I use DP9 on High Sierra we need this 8 year old app to be updated to 64-bit. Please MOTU, give a little attention & love to this app like you do for Digital Performer itself.
TOY
by Iphone BabyTrin
This app is ugly and it's a toy! I am the official ipad console man and this app is garbage. It Looks very amateur.
Awesome app
by ccpianoman
Critical app for my workflow. Please please please update, especially now for iOS 11.
Crashes reliably
by Steve Zero
Although it's great to have a remote, you HAVE to learn what NOT to do. DO NOT EVEN TRY New Marker or New Take. Now, for a remote, those are next most-useful after the transport controls.
Technically, it works.
by robpage
Ok, it works and looks cool. But it's a bit buggy. You have to periodically reconnect to your computer. And for no apparent reason it will freeze. If you quit, relaunch and reconnect you're back in business...until it drops dead again. The only feature I'd like is a timeline like you'd find at the bottom of a video clip so you can tap in anywhere in your song. Anyway, those things aside, it works and is pretty handy.
Abandonware
by Timex
No longer works.
Not in dp9
by Morbid Man
Not working well in dp9. It freezes a lot. Won't run faders, but it works in reverse.. I can move app faders from computer. To bad this could be a nice little app.
No longer works
by Gossamerjohn
Motu clearly doesn't care about this app anymore. It no longer works and they've stopped updating. Too bad because it was excellent when they did.
5 years no update?
by Maniac0
NEEDS AND UPDATE.
It's Great but Needs Updating
by 7equals4
This app is an essential extension to Digital Performer in the same way Logic Remote is to Logic Pro X. While v-control is also great with DP, this particular app goes deeper. The problem is that it needs updating and is technically an iPhone only app. It does work on the iPad , but the connectivity is unreliable.
Useful, but NEEDS AN UPDATE
by RasputinsRevenge
Really useful, even on the Ipad- but it's been crashing when switching between tracks and control panel- has MOTU abandoned this app? I hope not- It really makes recording easier…...
Needs update!
by wesdrums
In theory I love this app. It just isn't stable. Crashes every time I switch to the mixer window. Freezes often at seemingly random time. Perhaps it needs to be update for latest iOS version.
CRASHES needs a good update
by Todd Case
App works ... but when you go from Tracks to Mixer it will crash at times. I found if i tap the mixer slowly ( holding my finger on the mixer button) instead of touching it fast the program will not crash. Another annoying issue is you have to keep going to settings everytime you open DP control ot assign an internet connection to your computer. The motu readme files say DP Control is supposed to learn that for you on the first time you connect......but it doesnt !! ...too many bugs !!
Almost Perfect...
by Squidacious
This has replaced my Frontier Transport. Great free app. My only wish? An undo button, or one assignable key command. The primary use of something like this is to use it remotely. I use it from my drumset, and from my vocal booth. I have to go back to the computer every time I need to undo a take, and do another. Please make an undo button!!!!
Appears to be abandoned
by JFQuackenbush
Too bad, this was useful and could have continued to be. Completely broken on ios 8 afaict.
CRASHES!
by Tommypenngotti
Although this works on my tiny iPHONE4s - the App crashes like clockwork every time on the mixer window on my new iPAD Air IOS8 ….very frustrating . Motu customer service offered 0 help or news on an update. In addition to an update , a more complete iPAD controller or even DP DAW for iPAD would be much more desired than a transport only control. Don't get me wrong , I love DP and the boys , but this one is frustrating!
Great for mixing from floor!!
by Glikkenschtooton
As a worship leader, I am frequently running in and out of the worship center launching and mixing FOH loops generating from DP by our drummer in the drum booth. Yeah, so during the week when it's just me it was launch, run to floor, strings too loud, run back to booth, adjust mix, run back to floor, strings too low, (repeat-pass out). NOW with DP Control: link laptop in booth with same Wifi as iPhone, walk to floor, launch sequence, go to "mixer" and mix right there on the floor, starting and stopping and switching sequences from there! Love it!
Incongruent development
by Tremendm
This app is for iPhone, but the new cuemix app is only for iPad? That doesn't even make any sense. One would think it'd be the other way around, It's just a mixer control. Dp is way more complicated. Who's gonna by an iPad for added mixer control? Just add midi control and that's all you need to start. All these other levels of control could be added on top of the simple control structure. Everyone has an iPhone/ iPod touch. Why not make an app for the device everyone has? Unless motu doesnt understand their average user/ customer...
iPad is lacking
by ariacat
This app works exactly as advertised, but it needs a big update to be truly useful on an iPad. The screen is optimized for iPhone so the faders are tiny and there's very few of them on screen at once. This could be a really cool tool in the studio. Right now it is just an iPhone novelty for DP.
DP Control - My Most Trustworthy App
by MyHomeStudioDrumRecording
DP Control - Where have you been? And why weren't you developed sooner? ;-) Makes it SO EASY to record drums via my iPhone 4S! Don't have to mess with running long 50 foot USB or monitor cables into the drum room to connect a separate monitor or keyboard or mouse... Don't have to worry about losing a bluetooth mouse or keyboard connection trying bring those into the drum room... Don't have to worry about walking/running back and forth between takes (although that's decent exercise too :-D). Although I agree with other users that I wish I wouldn't have to keep reestablishing a DP Control connection if I have to come out of the app in order to text or make a phone call, etc., it's only a minor inconvenience. No big deal... Thanks so much MOTU!!! A must have app!!! It just plain works... :-)
Excellent app
by BuzzySmith
A no brainer to install. Works great. It allows me to play and record the piano or B3 (upstairs-studio desk is downstairs) with visual confirmation that I'm actually in "record". Highly recommended. Hopefully, an iPad version will be available soon...it has been a year and a half!
Great app
by Antimal
Love this app!!! Very helpful, looking forward to the future apps like this one.
Extremely helpful app
by Flimner
I love the folks at MOTU and this app is just another example of their great products. It's simple but so helpful when recording on my own with DP. I can be in a space away from my computer and not have to drop my guitar to control the desktop app. No real bugs to report. The only minor issue is the time display keeping up with the actual running time. All controls are instantaneous and I can even delete a take or save my file remotely. Thanks MOTU!
Love it! Make iPad version PLEASE!!
by evbvd
Works great, too cool, would love a real iPad version, yes!
Works great.
by Hollywoodcoach
Basic and excellent control of DP 7,24 from my iphone 4 to my new iMac. Can't wait to use it when I'm cutting a track and need to get away from my machine. No plug in control yet but pretty thorough nonetheless. A no brainer and a great freebie.
Great App!
by Killahurts
I love this app! It totally works as advertised on my (seriously) 1st generation iPhone. Whenever I need to record myself and there is nobody in the control room, I simply take my phone into the studio and get a fully functional controller for DP. I tried another, generic app that is made to work with several different DAWs, but nothing beats having one that is dedicated to Digital Performer. Like lots of folks here, my only wish is for MOTU to make a true iPad version of it.
Excellent app for remote control of Digital Performer
by BobK88
Easy to set up, well thought-out. Classy GUI design. And it's free. Great job, MOTU! Works fine on my iPad 2, but it'd be nice to have an iPad-native version with higher-resolution graphics. If you want remote control of DP and have an iOS device, this is the ticket.
Great app!!!
by kgdrum
Easy to setup & use,this app is invaluable.
Perfectly Functional, Amazingly helpful
by Shooshie
For years I've used a wireless keyboard as my remote control for DP. I do not like control surfaces, They are big, bulky, and all it takes is one OS update to render it into a large paperweight. Besides, what I need is something I can carry around. Voila! MOTU to the rescue! This app is really well-thought-out... and it's FREE! But I'd have paid a hundred bucks for this, easily. I'm not saying it couldn't be improved upon; you could keep adding features until you copy DP in its entirety, and some people would still whine that it's not enough. But for a remote control, wireless -- usable away from the monitor -- this has most of what you would need in general situations, maybe more than you would expect. Setup is unbelievably simple. There are maybe two things you have to turn on. Or was it one? I don't even remember. All I know is that it was working before I had a chance to worry about how hard it was going to be to set up. Super-smooth, MOTU! Nailed that one! Periodically I would think that I wish DP Control had XYZ feature, then I'd explore a little and find that sure enough, it's there. They managed to pack a lot into a tiny space. I use it on the iPad, so it's not so tiny. It's got all the basic transport functions, mixing board functions, automation, track enabling, take selection and creation, chunk enabling, plus a surprising number of other controls. (always check for other pages in each view) And you can use it up to about 30 feet away! In portrait view, the faders have a long enough throw to be very sensitive to your touch, and it's great to be able to work 4 or more faders on a single pass. In landscape view, it's possible (theoretically) to work ten faders at once. I doubt that anyone could actually DO that, but it's possible. The control and speed is there. One suggestion to users: if you've got a dual speed wireless router, connect at the higher speed. DP Control operates smooth as butter at the higher speed. At the slower speed you may encounter some jumps in the faders and time readout. MOTU hit a home run with this controller. Thanks, guys. This is wonderful, and MOTU has set a high standard from the outset for the others to copy -- something we've grown accustomed to over the quarter century of DP and Performer.
perfect
by machinesworking
Works exactly as described. People not getting it must not have visited MOTUs site. Glad to be a Digital Performer user, I have devices for other DAWs on my phone and this one is simply the best of breed.
Fantastic! Another reason to use Digital Peformer!
by Jlliv
Digital Performer is probably the least appreciated, but hands down the best DAW platform on the Mac and the only one with a dedicated controller like this. I run it simultaneously on my iPhone (for transport control) and my iPad 1 (for the mixer section). It just plain works because the app was programmed by MOTU who is the developer of Digital Performer.
Woo
by Dillon L
iPad! iPad! iPad! iPad! iPad! iPad! iPad! iPad! iPad! iPad! iPad! iPad! iPad! iPad! iPad! iPad! iPad!
Motu user
by seanoplaysdrums
Would be awesome if there was an iPad version. Works good but would be fun to mix on an iPad!
VERY Helpful!
by Ripeart
A MUST HAVE! This liitle app has saved me tons of time not to mention the added convenience of being able to trigger and modify crucial settings remotely. I'm using it on an iPad for which there currently is no app so I have to magnify it. The only couple of glitches besides that is that it sometimes gets confused when you tap the screen. It sometimes thinks you want to scroll the screen when you are tapping controls so you must touch the screen light and quick otherwise it will try and scroll the screen. During scrolling it doesn't snap very well and you will sometimes end up with it halfway scrolled on top of which it is difficult to get it to scroll completely to one screen or the other. I second the other complaints about the controls not being very resolute. PLEASE MAKE AN IPAD VERSION!!! Other than that this is definitely the app to have if your looking to remotely control the main functions of DP.
will be 5* if iPad version happens
by soundpro
i got this app some time back, when it first came out. i've used DP for over 10 years for recording and live sound, and got it for the live sound part of my work, controlling my sound rig through DP without a snake from the back of the hall. i've also done that using VNC apps on the iPhone, but DP Control has better response and is better geared toward smaller screens. my big gripe is that the resolution of the iPhone screen isn't quite enough to give you good fader control. and the iPad version is just a magnified iPhone screen. duh. so you can't really get better control until they create an actual iPad version. i would buy an iPad in a Heartbeat if that happened, because this is central to my live sound work. oh, and it would get even more stars if it also supported DP's CueMix DSP software. as people have pointed out, it's a little sloppy when the phone goes to sleep, but i've found you just have to wait to make sure the wifi connection is made, or just launch the app twice after sleep. and really, it just shouldn't even launch with bluetooth on (but then, neither should the VNC apps that also break). all that said, it is a very fine app, and useful in my work.
Love this App!!!
by Renegade44shk
As a big DP7 user, I love this app. I have an M-Audio PeojectMix control surface. But, I find my self using the app during tracking. It's great not to be tied to a desk.
Amazing!
by bradley vail
Opened up the app and tapped "settings" and app directed me to the DP7 menu item "Setup". Easy. Hit play triangle on my iPhone And BOOM! Music. Started laughing. Sooo easy and soooo cool. This thing drops markers with a tap as you're listening to playback. A producer's dream. Perfect for tracking yourself when you're short-handed. Love it. And it's free. Thanks MOTU
Awesome app!
by sethville
DP asked me not to write a review of this app if i was using it on a 1st or second gen ipod touch, but i have to. it totally works fine. no problems (knock on wood, hope i didn't just jinx myself) but really, it is working on a first gen ipod touch with no problems at all. this is such a cool app. love it! if you have a 1st or 2nd gen ipod touch i would highly recommend trying it out. if it gives you problems just delete it & wait till you get a new ipod touch. but i bet you won't have to!!! i love you MOTU & Digital Performer! ; )
Great App!!
by Chris JC_2010
I know MOTU suggests not to use this on a 2nd Gen iPod touch, but I wanted to try it anyway and guess what; it works pretty darn well. And I was about as far away from my wireless router as can be and the app stayed 'in contact' with DP the whole time. What a joy to use when recording guitar. I don't have to sit at my desk now when I play!!
Thank You
by M A L
Thanks from M.A.L. ENTERTAINMENT Contact us if you need help to advance DP app. Have been a purchaser of motu products for years and will continue. Thanks From The invisible man at the poker table.
must-have for Digital Performer users
by papillo
It's always been a chore to record alone, even on my laptop; you have to keep the headphones, microphone, and music stand away from the computer (lest the sensitive microphone pick up computer noise), but then jumping back and forth between changing settings on the computer and performing is quite the chore. I'd tried the AC7-Control app, configured as a control surface, but found it difficult and tedious. In order to work correctly, you have to muddle all the network settings on your computer; and as I don't routinely use a Mackie control surface, the controls were difficult for me. You also had to install a few other components on the computer, which added considerable complexity. I'd tried VNC, which allowed me to actually manipulate the computer directly. It was usable.. but the lag time between VNC updates often had me wondering whether I'd actually pushed a button or not, and it was hard to manipulate small controls that were designed with a mouse in mind with a much larger finger. DP Control is a dream come true. It makes all the things I need to do easier, with little perceptible lag, and without anything but stock software on the computer. Recording is a joy using DP Control. I only wish it had come out sooner, before i'd invested in those other (somewhat pricey) solutions. Other recording solutions should beware - without this functionality, Digital Performer has the edge... I don't often give 5 stars to an app if I still have suggestions for it... but in this case it's quite justified. Still, I'd love to see a universal app, with an iPad-optimized layout. I'd like to see a second line of transport information, so that I can see my current marker and still be able to navigate by measures. I'd like to see the view-by-marker mode be more informative, e.g. "Refrain 1 + 4 measures" instead of just "Refrain 1". I'd like to see transport buttons to quickly advance or reverse by one measure - if you need to back up two measures, it's more natural and more accurate to do so with a couple of taps of a button. I'd like to be able to manipulate more than the record, play, and take settings on tracks; a way to change the output assignment would be most appreciated.
Heaven sent
by I Miss Dizzy
For someone like me who works alone recording vocals and VO all day, this app is worth it's weight in gold. Not having to be physically tied to a USB device or keyboard is incredibly freeing. I can hold it in my hand and focus on what is in front of me. If I had to work overtime and come up with a complaint it would be that it only works with DP, and let's face it - that's smart of MOTU. The other DAW's should follow suit, or at least try. To think that there's a $100 app on iTunes that is supposed to do what this does is almost funny. This app and the upgrade to DP 7.2.1 have made me less likely to open Logic at all these days.